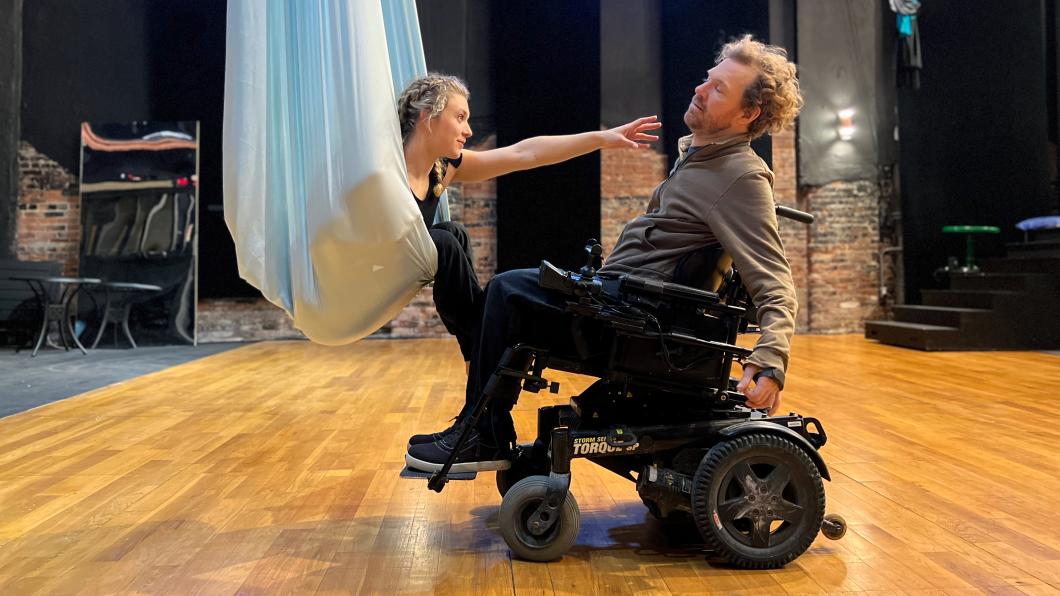 Jayeden Walker (left) and Luke Anderson. Photo by Kathleen Rea.
By Louise Kinross
Luke Anderson is constantly reinventing himself. In 2002, the engineer was an extreme athlete who moved to British Columbia to pursue his passion for mountain biking. When he rode off a platform to jump a 25-foot gap and came up short, he injured his spine and entered "a world that's not well-suited to a wheelchair user," he says. In 2015 we interviewed Luke about creating StopGap, a Toronto foundation that promotes inclusion by dotting single-step storefronts in Canadian cities with brightly coloured ramps. Recently an image of Luke performing in a dance production called Finding Helix crossed my desk. It was time for an update!
BLOOM: I understand you got into dance with something called contact improvisation, which I'd never heard of.
Luke Anderson: I certainly didn't know about it until six years ago. For me it's a practice where I'm able to express what's coming up in my body through movement, and that can happen in a solo way or with a partner or with a group of people.
There is some technique involved where there's a sharing of weight, or lifts that require a degree of understanding and skill. But within that realm of technique lives this beautiful opportunity for improvisation. Contact improv is a community that's developing more openness to people with disabilities. I'm one of many wheelchair users and others who identify as having disabilities.
A friend of mine had been talking about their love for this form of dance and how it was open to disabled and non-disabled dancers. That was the fire that was lit under me to bring me out of my comfort zone and explore it.
BLOOM: Extreme sports were a big part of your earlier identity. What role does dance play in your life now?
Luke Anderson: I think having connections to community within a shared experience like dance is meeting that need. My passion for mountain biking was connected to enjoying it with other people. There's something really nurturing about that aspect of the dance community, and getting to connect with other people and practising. My life has expanded astronomically from leaning into and saying yes to that invitation to try it.
BLOOM: What is Finding Helix about, and how did you come up with the idea?
Luke Anderson: Jayeden Walker is my dance partner. She's a circus performer who uses silk. We were exploring how we could dance together with her using silk and me using my power chair.
In September we got a Canada Arts Council grant and an Ontario Arts Council grant that led us to work with a brilliant choreographer called Kathleen Rea. Kathleen developed this storyline about reconnecting with lost parts of ourselves—parts that we've pushed away, forgotten about or avoided, but are still very much within us. It's a relatable story for all of us I think.
For me in particular the part that I shut away was the athlete within me: the part that loves pushing the envelope, that loves the search for an adrenaline rush, that wants to feel the exhilarating emotions that come with pushing my body. That part still lives within me, but the journey is internal. It happens on a soul level.
In the dance Jayeden is the lost part that I've found and I'm reconnecting with and understanding and befriending. It's understanding where this grief, or an ability I lost, lived, which was in the pain I feel in my chest. Finding Helix portrays that this kind of journey is often a rocky, uncomfortable, disruptive process.
BLOOM: You mentioned that you don't refer to your bike injuries as an accident. Does that mean you don't look at it as a random event?
Luke Anderson: No, no. That's not part of my philosophy. I don't think that what happened was an accident. There are two ways of looking at it: It was something that could have been prevented, and it was something I've chosen to recognize as a gift. I've come to a place in my own heart and understanding that what happened to me has gifted me an opportunity to experience life in a different physical situation, and the challenges that that poses is gifting me an opportunity to gain wisdom.
My incarnation was predestined to involve this journey is my take. I've done some seeking and had the privilege of taking part in different communities that exposed me to philosophies and teachings, whether that be Eastern or Western philosophies. I've done a lot of reading and a lot of soul searching.
I find peace and levity and interest in choosing for it to be part of my path. I could also choose to end my life, because I have the choice to see it as an absolute hell on earth and get pulled down into the darkness of this being ridiculously hard and sad and depressing. I've tasted what that looks like for brief moments in my life, and I've chosen not to get pulled down.
Resting in this outlook and perspective has served me well.
BLOOM: What was the greatest joy of performing Finding Helix?
Luke Anderson: There's a moment towards the end of the piece where Jayeden climbs on the back of my chair and I hand over the controls to her and that's a really exhilarating part because I get to go along for the ride.
BLOOM: What did you hope the audience took away?
Luke Anderson: I think it was an opportunity to help people get a bit of a new perspective on how people with disabilities can engage in a wonderful dance experience.
BLOOM: What are next steps for you with dance?
Luke Anderson: We would love to perform Finding Helix for more audiences. It's a show that's expensive to run because it requires a space with specific riggings for Jayeden's silk. We're hoping to find a producer to help us take it to more places.
BLOOM: Can you give us an update on StopGap?
Luke Anderson: We had a real period of growth and momentum and then the pandemic started, which put a damper on it. I had to lay everyone off except myself and we put our programming on pause, because most of our programs thrive in person.
A year and a half ago we were back up and running and I'm just building back a team. We are doing corporate team-building again in our wood shop at Queen and Spadina, and wrapping up work with six schools. Students go out into the community and advocate on our behalf and encourage businesses that have a stepped entryway to get a ramp.
We're also working on getting 60 ramps into Little Jamaica. We got a mainstream innovation fund through the City and will convert that to a lot of ramps on the ground and awareness raised and a communications plan to amplify the work we do.
In the future I want to put myself out of a job.
StopGap was intended to raise awareness, which is built into the name. The ramps are not a permanent fixture. We want to get everyone understanding the importance of building things that are inclusive at the beginning of a project. And how important it is to invest in barrier-free renovations.
Like this content? Sign up for our monthly BLOOM e-letter. You'll get family stories and expert advice on raising children with disabilities; interviews with activists, clinicians and researchers; and disability news.