THE BEST CO-PARENTING APPS & SOFTWARE IN 2020
The Our Family Wizard app was created by a divorced couple who were in need of better communication and sharing of information regarding their children (hat's off to a couple who can create an app post-divorce!) The end result is one of the most extensive co-parenting apps available with an array of tools that schedule child custody, track parenting time, share information and manage expenses. It also logs communication to provide an accurate record for divorce proceedings. Part of the main Our Family Wizard website, it suggests useful resources such as counselling and divorce lawyers.
Find out exactly how Our Family Wizard works here: My Family Wizard: Review from a user.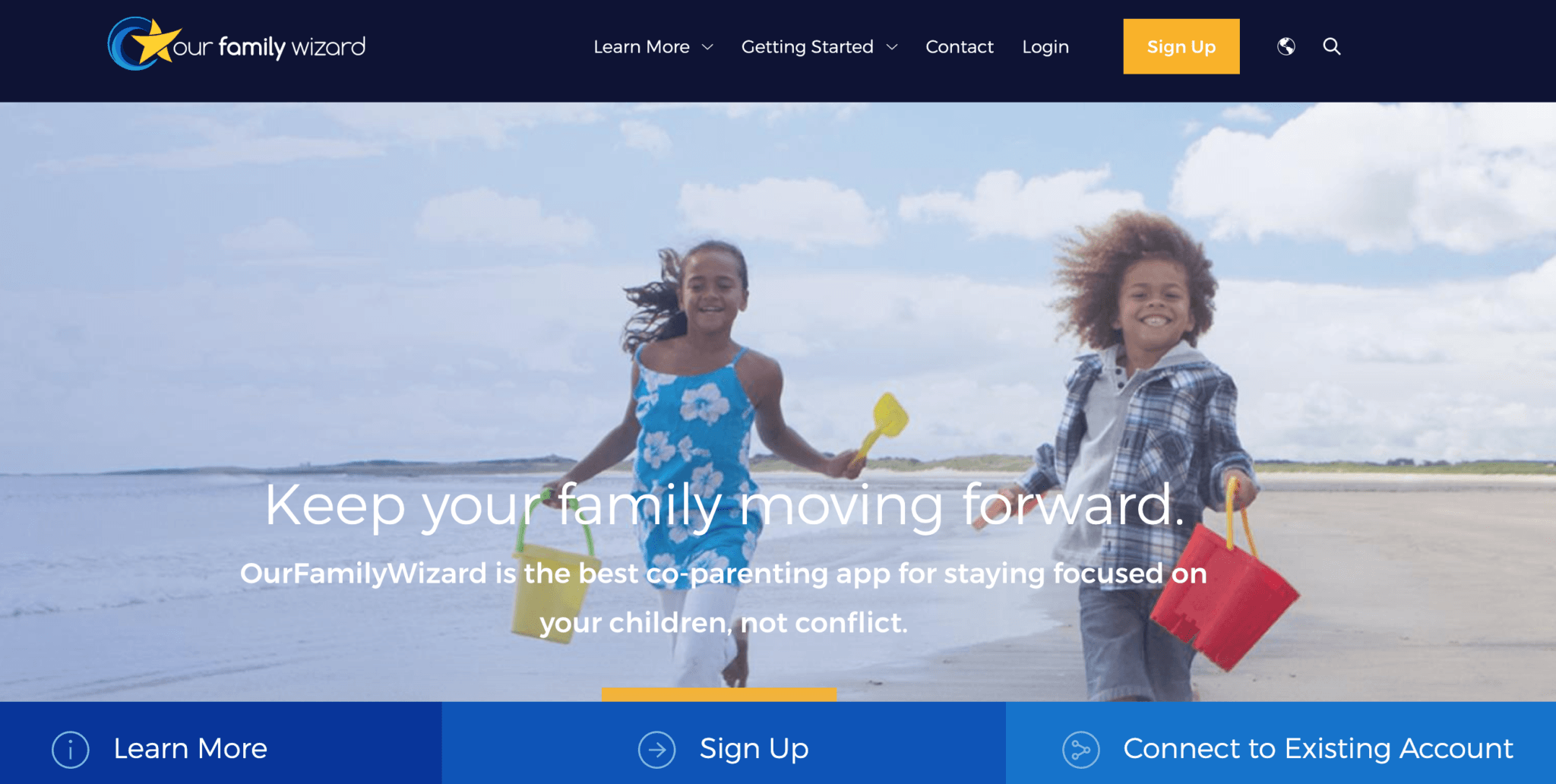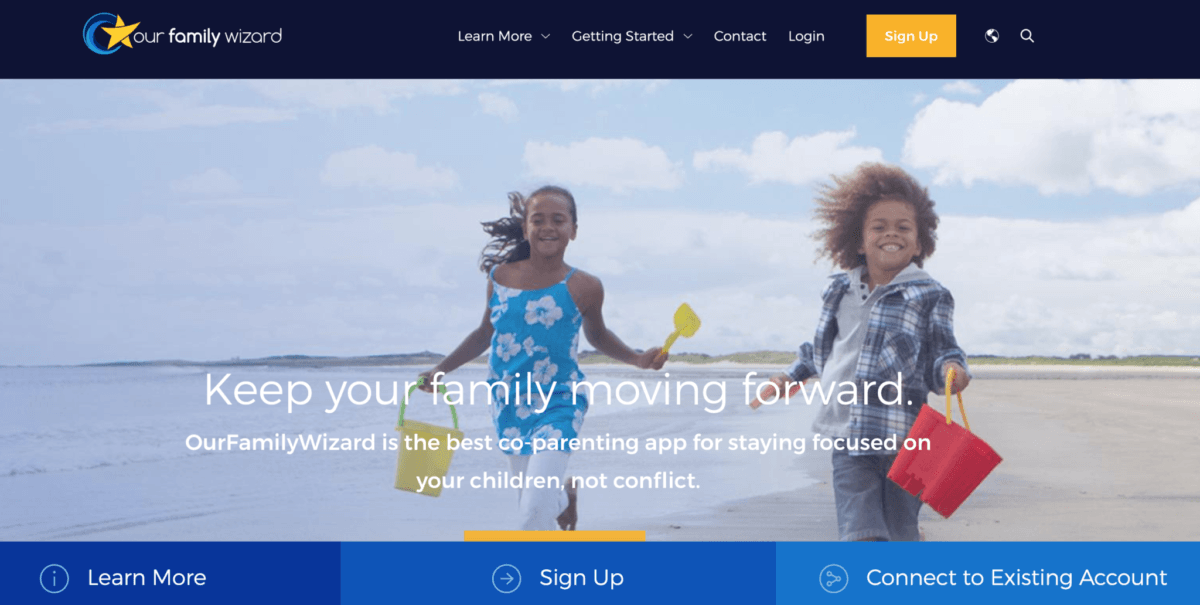 Available via: Website, Apple, Android

Free version: 30-day money-back guarantee
Best features: Easily work with third parties and professionals

Pros: 30-day money-back guarantee, free access to legal and mental health professionals

Cons: Calendar and scheduling features can take some getting used to.

You will love this app if: You are happy to pay a reasonable cost for an app that has extensive, interactive co-parenting support and tools, which genuinely helps you to be the best co-parent you can be.
One of the simplest co-parenting apps we looked at is Cozi. Although not specifically designed for co-parenting, it has everything a co-parenting couple would need, and more. With Cozi you can set up shared calendars, create to-do lists, and share photos. It even allows you to store and share favourite recipes, which is handy to keep meals consistent and deal with food allergies across two homes.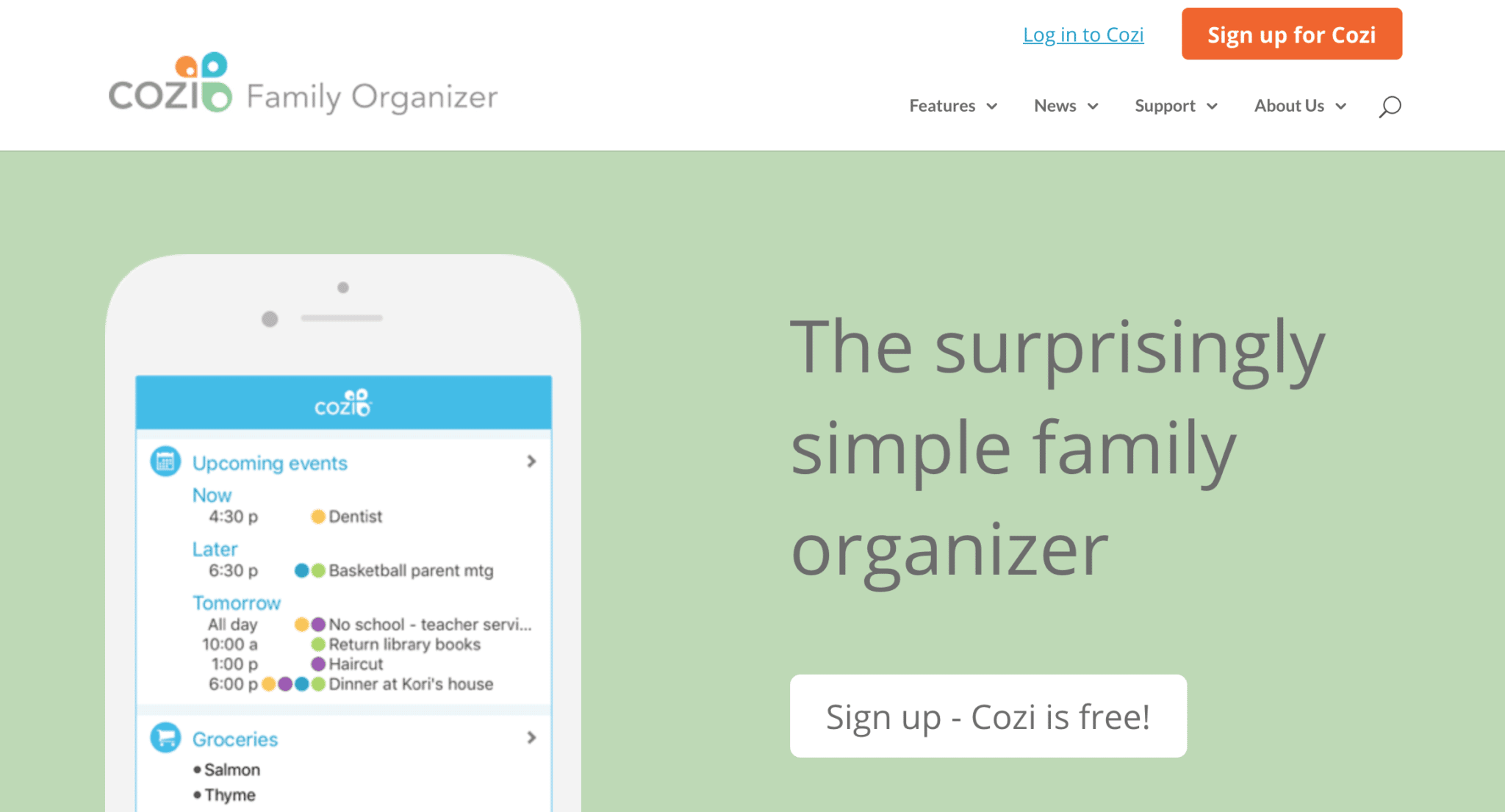 Available via: Apple, Android
Free version: Yes, free with ads
Best features: Free version, easy to use family organizer

Pros: Free to use, one account for all family members, features recipes and grocery lists

Cons: Occasional glitches, ads can be annoying on the free version

You will love this app if: You want something super-easy to operate which has heaps of cool features on a fresh, clean interface. Also, as it's free, you can try it and see whether it works for you and your ex, without outlay.
WeParent is an excellent time management and tracking app designed for divorced and separated co-parents. Manage your custody schedules and appointments, send messages to your private group, and organise contacts, lists, photos, and documents all from one app. We suggest taking full advantage of the 14-day free trial before committing to the monthly fee, as some users report errors that can make the app unusable.
Available via: Apple, Android
Free version: Free for 14 days
Best features: Fully featured scheduling, tracking, and messaging app for co-parents

Pros: One subscription for the entire family plus support team (lawyers, counselors, etc.), great customer service

Cons: Reviewers report bugs and errors

You will love this app if: You need an all-in-one scheduling and tracking tool.
The FamCal app has a host of features to improve family connection, so although it is not exclusively for co-parents, it can certainly be used by them. It has a shared calendar that allows every member of the family to share dates, events, schedules, tasks, and notes in one place. It keeps things particularly easy with visuals such as colour codes for each family member. The app is available for both Android and iOS users, and the basic version is free.
Available via: Apple, Android
Free version: Yes
Best features: Free app, shared family calendar with notifications, memos and tasks

Pros: Easy to use family calendar with useful add-ons like tasks and lists

Cons: Free app is very basic, you have to pay for additional features like text month view, shared contacts and birthday/anniversary tracking

You will love this app if: You have a large family or group to organise where lots of people need to be connected and updated. Also handy if you respond to visuals with colour.
2houses offers a great suite of features for every aspect of co-parenting. This co-parenting software covers the practicalities with an advanced management calendar and detailed expense recording. It also houses an extensive information sharing feature called 2houses Journal. The idea is that even if your children are with the other parent you'll never feel far away as it allows the sharing of news, photos, videos and even those endearing children's quotes. Another nice touch is the Wish List on which you can send a photo and discuss a future gift for your child. You can use this best parental control software free of charge to always stay in touch with your kids.
Available via: Website, Apple and Android
Free version: Free 14-day trial
Best features: Scheduling tool with finance and messaging features

Pros: One account for the whole family

Cons: Reviewers report glitches and auto-renewals

You will love this app if: You are looking to streamline the practicality of co-parenting, as well as working with their father to further enhance the well-being of your children.
Best co-parenting apps and software in 2020
A straightforward and reputedly easy-to-use app, Custody Connection is based around a primary calendar programmed with a synchronised custody schedule. It can be customised for easy viewing and has an ultra-handy Trade Request Feature should parents need to swap custody days. Avoid disputes as the app records whether requests are accepted or declined, then updates both parent's calendars accordingly.
Available via: Apple
Free version: Free for 30 days
Best features: Scheduling app

Pros: Shared calendar, scheduling changes can be done through the app

Cons: Only available on the iPhone, hard to contact customer service

You will love this app if: You and/or your ex-partner have busy schedules that are liable to change and affect the care of your children.
Another app that's a hit with separated/divorced families is Coparently, which has all the tools you need to make co-parenting less stressful. Coparently features a shared calendar, journal, expenses, contacts, medical info, documents, and photos. We like that you can add your kids to your account so you can communicate with each other directly. Coparently also supports notifications and free guest, child, and professional accounts. This app is a great co-parenting tool, but each parent has to pay separate monthly fees.
Available via: Website, Apple, Android

Free version: Free for 30 days
Best features: All-in-one co-parenting app

Pros: Custom calendar that improves transparency and communication for parents and family law professionals

Cons: Separate monthly fee for each parent

You will love this app if: You are co-parenting and working with family law professionals and counselors.
The nifty Parentship app takes the pain out of managing your children's crazy and complicated schedules. This app is for all kinds of families, including step families, commuter families, joint custody arrangements, and relative-led care. We love the custom calendar feature that makes scheduling so much easier as well as keeping track of important documents and expenses. Parentship lets both parents avoid friction and communicate better so they can focus on the kids.
Available via: Apple, Android
Free version: Free 1-month trial
Best features: Everything you need is located on one dashboard

Pros: Lots of features, custom calendars, document tracking

Cons: You need to pay $3.99 to get all features

You will love this app if: You're a frazzled mum who wants to streamline your kids' schedules
If you want more than a calendar and scheduling app for co-parenting, CoPilots is for you. The app aims to help separated or divorced families raise happy kids between two homes with a variety of tools: common calendar, parenting schedule, child journal, photo sharing, and messenger. Parents and any adult caretaker can view their child's schedule as well as track contacts, appointments, and messages. Users can add multiple adults in the child's circle, including different partners.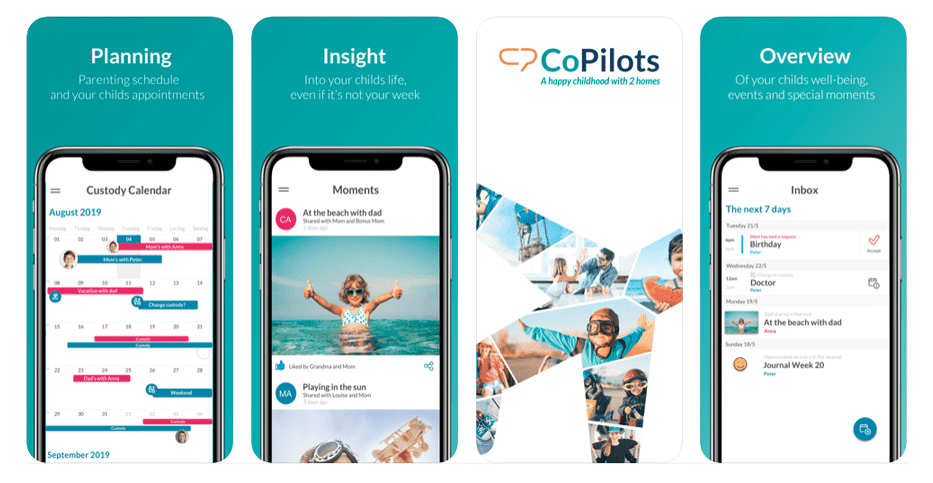 Available via: Apple, Android
Free version: 30 days free trial
Best features: Feature-packed, includes messenger, photo sharing and kids journal

Pros: Multiple adults/caretakers can use the app without extra charge.

Cons: User interface could be more streamlined and easier to navigate.

You will love this app if: You're looking for a well-rounded co-parenting app that lets you do much more than just create and view schedules.
TimeTree puts your entire family, work, and social calendars in one place for easy management. The app makes it super easy to plan family events and organise school and work schedules. You can even chat with your co-parent right from the event calendar. This app is packed with features including calendar and scheduling, shared notes and lists, and multiple calendars. If you own a business, you can also track inventories, share agendas and connect with the workplace.
Available via: Apple, Android, Web
Free version: Yes, free with ads
Best features: Calendar app for sharing and collaborating
Pros: Easy to use, lots of features including calendar management and inventory tracking for business owners.
Cons: Pop-ups and ads can be annoying

You will love this app if: You need an easy-to-use co-parenting app for collaborating.
Created by Stepfamilies Australia and Drummond Street Services, the free co-parenting app MyMob helps separated families manage schedules and holds parents accountable for their children's welfare. The app features messaging (with profanity filter), shared calendar, storage for important contact numbers, wish lists, and a virtual fridge to post artwork, photos and notes. According to Stepfamilies Australia, the app was used regularly by 2000 families mostly due to court orders.
Available via: Apple, Android

Free version: Free
Best features: Messaging with profanity filter, virtual fridge for photos and memories

Pros: Completely free co-parenting app with lots of features

Cons: Buggy, not compatible with some mobile devices, not for high-conflict parents

You will love this app if: You want to keep private messages appropriate for little eyes.
Appclose calls itself the future of co-parenting technology and we agree for the most part. It is a completely free alternative to similar paid apps with all the features you need to sync calendars, organise schedules, and communicate with family. It comes with messaging, built-in payments and tracking, and the ability to create a shared parenting plan. However, usability can be improved.
Available via: Apple, Android
Free version: Yes
Best features: Scan receipts and request payments electronically through the built-in payment system.
Pros: Has all the co-parenting app features you need for free
Cons: Not very user-friendly compared to paid apps
You will love this app if: You want a completely free co-parenting app with all the basics.
Conclusion: Best co-parenting apps and software 2023
So there you have it, eight co-parenting apps (and co-parenting software). If you feel your co-parenting style needs improving or you want to create a little more harmony with your ex-partner, why not give one a go?
Anything that helps communication and organisation will only improve the well-being and happiness of your children.