Best ever foot tattoos for females
Dandelion clock and birds
I'm starting with one of my all-time favourite designs. This beautiful tatt give a sense of flow and movement across the foot. Dandelion clocks represent resilience and rebirth so it's not just a pretty design by can have a personal meaning too.
Source: Pinterest
Single Flower
If you're new to trying foot tattoos, this small, single flower is perfect. It's understated and easy to hide if necessary. It's also versatile, so you can integrate it into a bigger and more elaborate design when you're ready.
Source: @laurarey.art on Instagram
Floral
Forgive my ignorance, but is this baby's breath? Whatever it is, I love this dainty floral tattoo. It has minimal colours, and the direction the flowers flow toward makes the lines of the foot look like the wind. Exquisite and thoughtful.
Source: @eva_tattooist on Instagram
Delicate Weed
"Weeds are the things that choose to be persistent despite the reality that they're going to get pulled." – (Craig D. Lounsbrough)
For many cultures, weeds are undesirable, but this tattoo is anything but. Aside from representing resilience, this minimalist design makes me feel peaceful. The weed dancing with the soft wind, shown here by the dots, reminds me of a calm spring day.
Source: @tatuatornia_esterr_ka on Instagram
Lotus Flower
The meaning of the lotus flower varies from culture to culture, but generally, it is enlightenment and rebirth. For example, for Buddhists, the blue lotus flower signifies the victory of the spirit over the physical body and wisdom over suffering. On the other hand, Indians believe it symbolises the unfolding of the individual and the expansion of one's soul—such a beautiful meaning for an equally beautiful tattoo.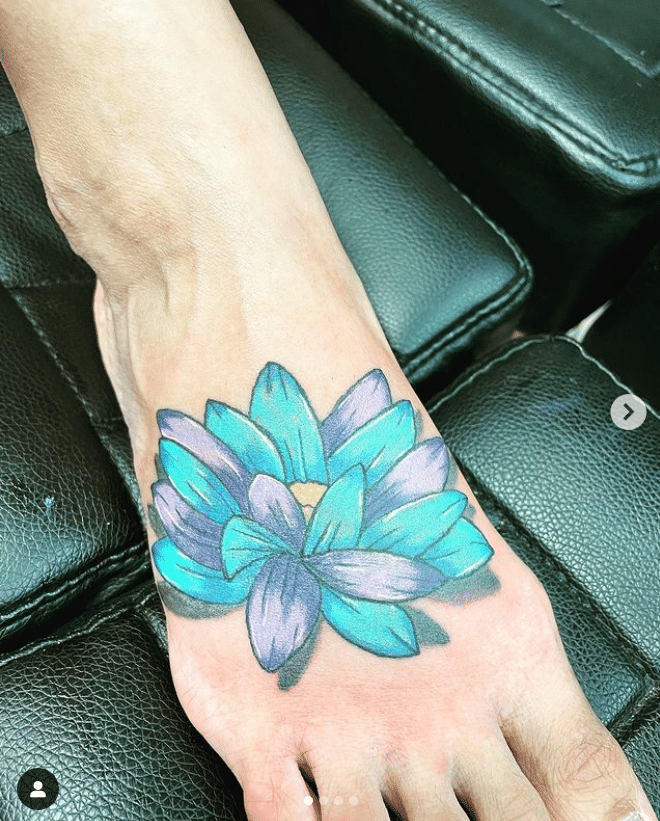 Source: @stephaniekpowell on Instagram
Lotus Flower (Black and White)
This tattoo is a gorgeous option if you prefer a black lotus flower instead. Whether you want black because it signifies mortality or because of the aesthetic, this design still encapsulates the beautiful meaning of the famous flower.
Source: @jessica.jexx on Instagram
Sun and Moon
Together, the sun and the moon symbolise two opposing forces: day and night, light and dark, good and bad. They are a popular tattoo choice, and these minimalist patterns are excellent for those who are just starting or want something low-key and impactful.
Source: @sneakfoot_ on Instagram
Good Morning, Goodnight
These beautiful patterns are perfect if you want your sun and moon to be bigger and louder. The ordinary meaning of this design is good morning (sun) and goodnight (moon), but they also hold importance in different cultures. For instance, the sun in splendour may depict victory and has roots in alchemy and Roman mythology.
Source: @notretattoo on Instagram
Waxing Crescent Moon and Pisces
This intricate pattern of the waxing crescent moon is breathtaking. This tattoo is perfect if you subscribe to zodiac signs. You can most definitely – and should! – use your own zodiac constellation, of course.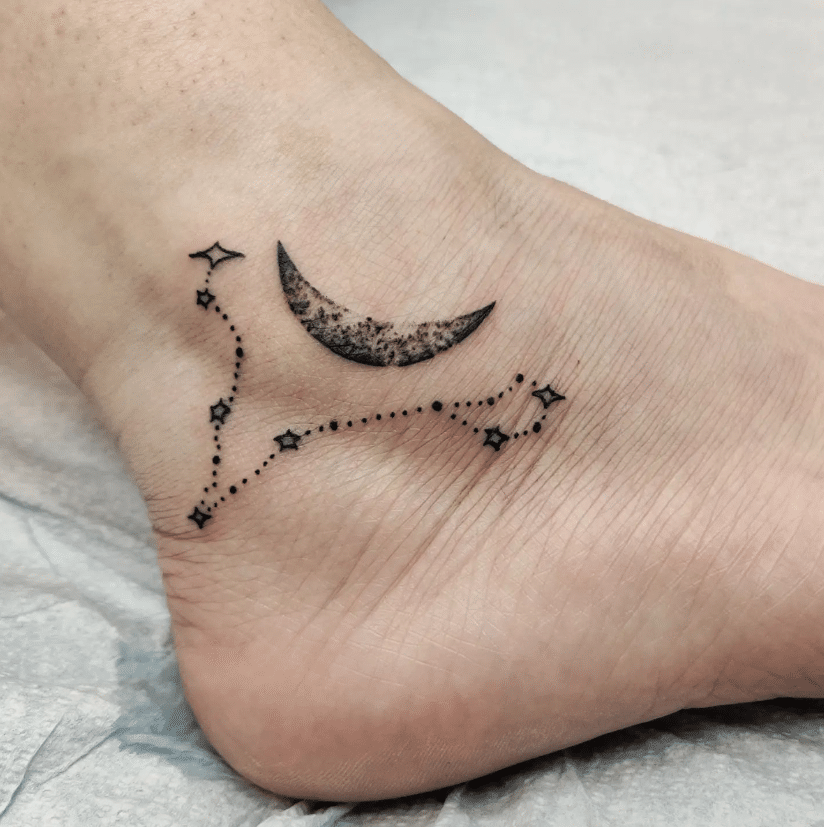 Source: @devilswalkingstick on Instagram
Sandal Season
Who doesn't love pretty toes? But, this time, it's not just your pedicure stealing the show. Instead, these beautiful tattoos dotting your toes will make you love wearing sandals all the time.
Source: Pinterest
Light
I am in love with the way this pattern of the sun, its light, and the stars covers the entirety of the two feet as one canvas. Personally, I'd leave out the Old English text. But I would love to be barefoot all the time if I had this tattoo.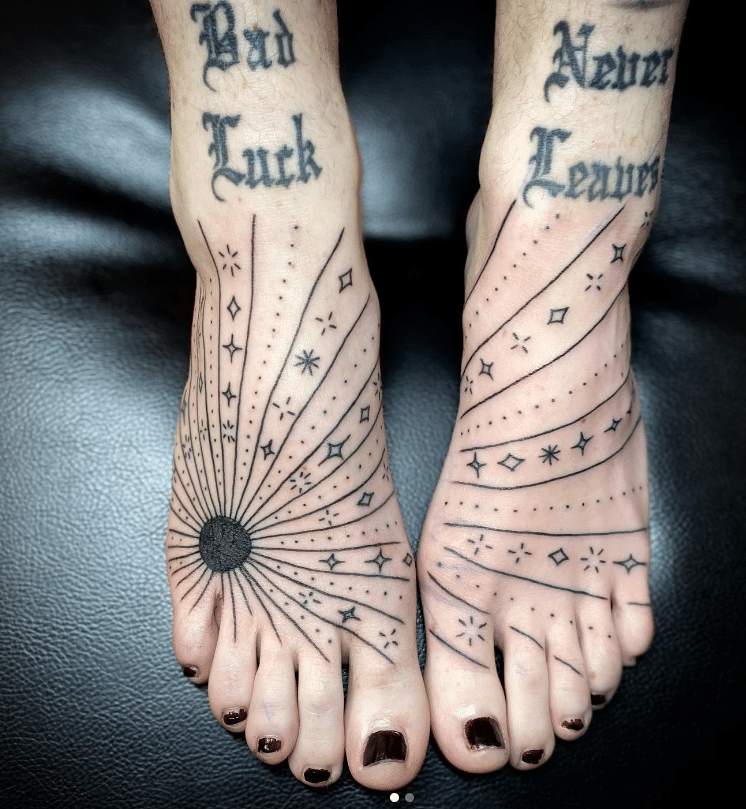 Source: @meetyourdestroyer on Instagram
Foot tattoos for females: More ideas
The Beach
Beach bums unite! This tattoo needs no further interpretation: you love the ocean. Period. But I especially love that the owner of this tattoo separated the two elements – the sun on one foot and the waves on the other.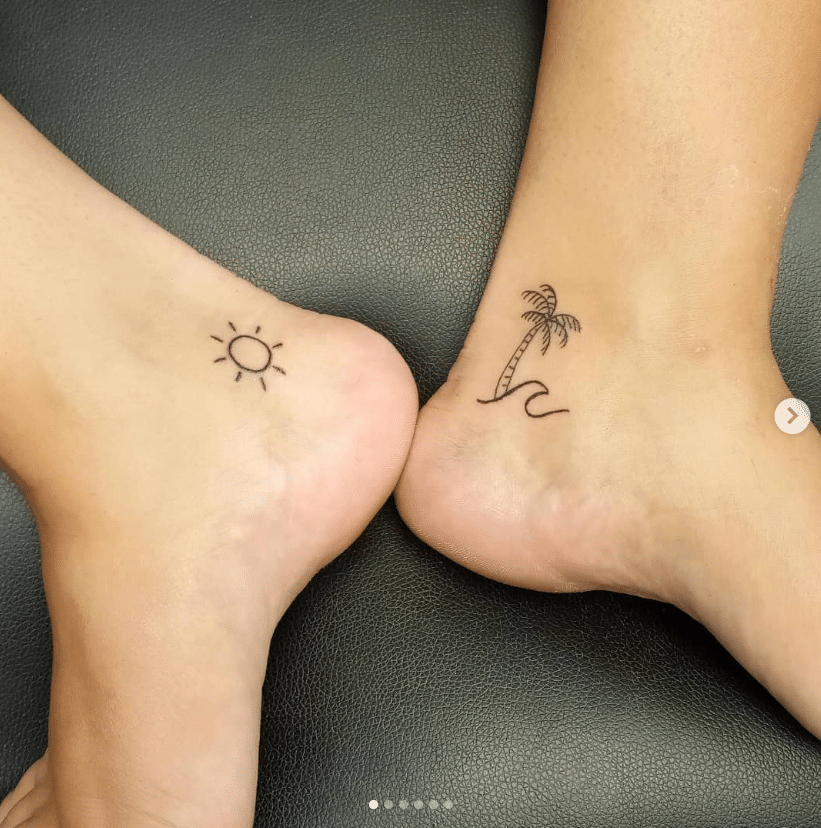 Source: @eternalarttattooshop on Instagram
Feather
This particular design exudes real life because of the shadowing, but you can most definitely use a more minimalist or more maximalist pattern, whichever you prefer. Birds, and by extension, feathers, usually represent freedom and beauty in many cultures. So, a feather tattoo is perfect for the free-spirited, brave, and strong mum that you are.
Source: @jaded.tattoo.studios on Instagram
Made on Earth by Humans
Text is another popular tattoo design. This particular design feels like a snark at religious people. But you can 100% use whichever text you want. Most people ink things that have an essential meaning in their life, so a birth year – yours or your kid's – is a famous option.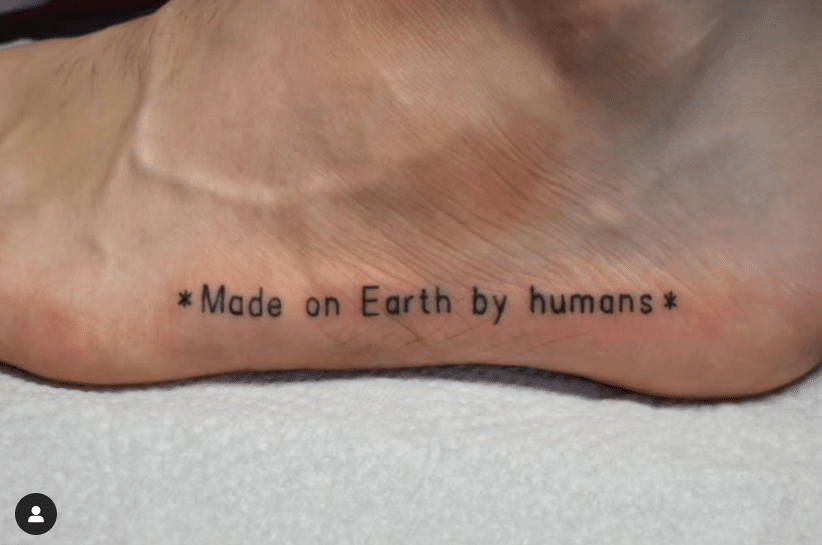 Source: @lisahermine.tattoo on Instagram
La Vita e Bella
Yes, in spite and because of everything it throws at you, life is beautiful. This beautiful cursive handwriting is an excellent reminder of the ups and downs in your motherhood and personal journeys. Use your favourite phrase for a personalised take. You could even use your child's name if you want a tattoo to celebrate your children.
Source: @tattoosbyjerome on Instagram
Swimming Turtle
Here's one for the mermaids. It's perfect for anyone who loves the ocean, saving the seas, or turtles (me!). Also, the drawing and colours of this tattoo have the vibes of a page straight out of a classic storybook.
Source: @perfectly.polished.steph on Instagram
Bee and Flower
Love bees? Well, you should because they're a major player in the survival of life as we know it. But this tattoo has a more beautiful meaning. Pollination is advantageous both for the bee and the flower, demonstrating a mutually beneficial relationship – something we all want.
Source: @beccambtattoo on Instagram
Puppy Love
Fur parents unite! Display how much you love your adorable pet with this cute and minimalist tattoo. I love how expressive the puppy in this design is, despite having just dots for eyes. Use the outline of your own pet for something personalised.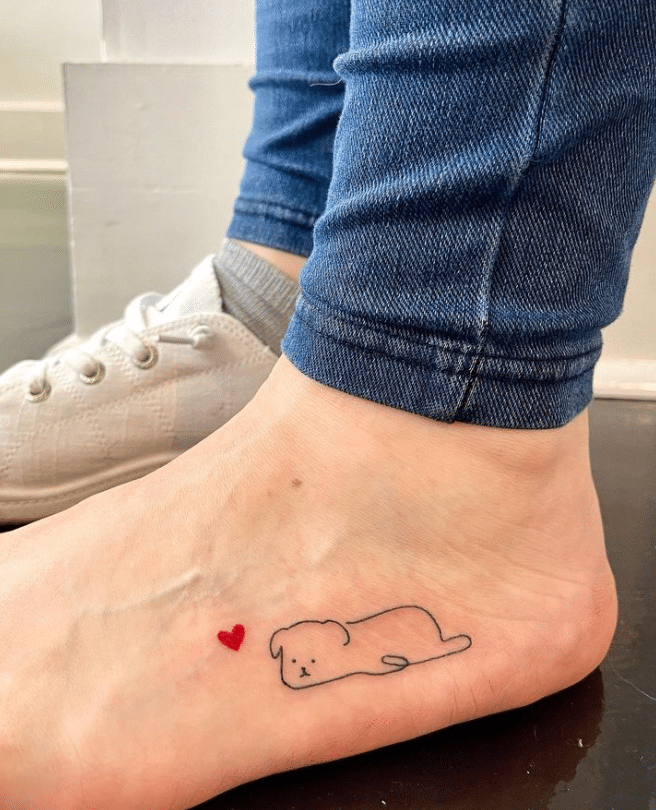 Source: @littlemagicink on Instagram
Cat Print
Can't get enough of your cat? You may not be a sad old cat lady, but these paw prints are so cute that you'd love them all over you. Of course, it will still work if you love dogs instead of cats or both!
Source: @strawberryinktattoo on Instagram
Mum Emotions
Last on our list of foot tattoos for females. One for the mums! These funny, quirky, and all-so-true tatts represent everything we go through every 24 hours. These are inked underneath, which perfectly illustrates how others don't easily see the rollercoaster of feelings we endure. For a less dramatic interpretation, what an innovative way to teach little kids about emotions!
Source: @ash.inkd on Instagram