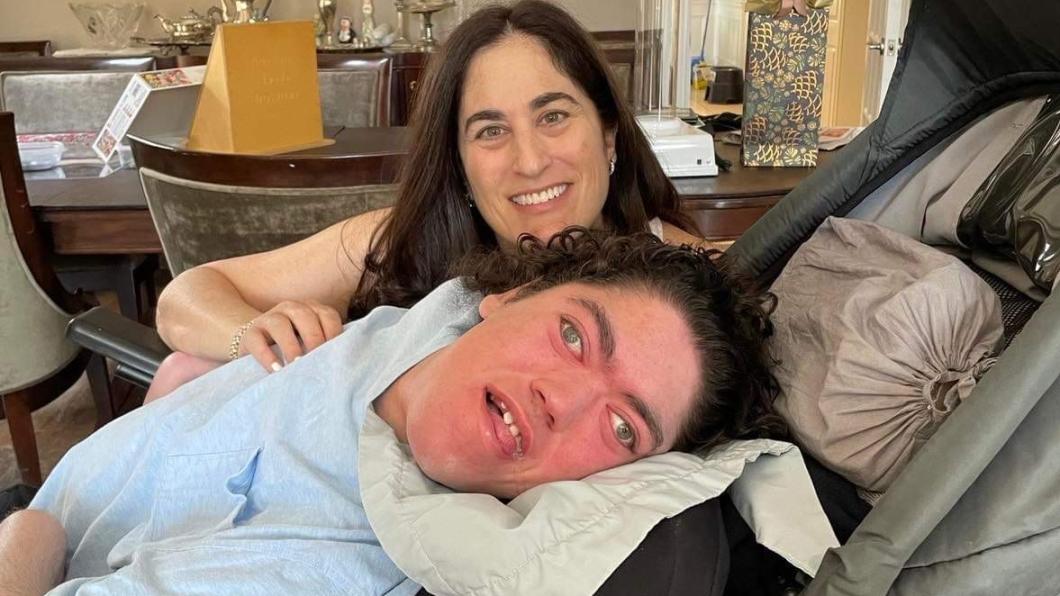 Photo of Marcy White with son Jacob
By Marcy White
Food insecurity is something I never thought I'd experience.
My family doesn't struggle on a fixed income, and my 20-year-old son Jacob isn't a fussy eater. He is medically fragile, and relies entirely on liquid nutrition. Since birth, Jacob has been fed through a tube that's surgically implanted in his digestive tract. Jacob can't swallow, so he can't eat or drink anything by mouth.
Alarm bells went off last year when our pharmacy manager called to say she was having trouble sourcing Jacob's liquid food. It's sold by prescription, so I knew it wasn't because it had suddenly become trendy, like kale or cauliflower rice. Jacob's food is made in a lab and packaged in a tetra pak that doesn't require heating or refrigeration. The dosages are fine-tuned to help ensure his vital signs remain stable.
Only one kind of formula has been deemed safe by Jacob's specialists. One! There are no alternatives. I wasn't a parent whose kid adores apple juice, but the store was sold out, so I grabbed a container of orange instead.
It didn't make sense to me. How could suppliers run out of life-sustaining formula in a city as large as Toronto? But our home supply was dwindling, and the pharmacy said our next shipment wasn't guaranteed. If we could run out of ventilators and ICU beds, why not liquid nutrition?
Jacob's daily meal lasts for 18 hours. It begins around 8 p.m. when he's settled into bed for the night. He wears a ventilator strapped to his face and a sensor wrapped around his toe to monitor his oxygen levels and heart rate. We pour the grey liquid, which has the consistency of whole milk, into a special bag with tubing that connects to the port in his stomach. We turn the feeding machine on, it beeps, and then it drips just under four tablespoons an hour into the tube until 2:30 p.m. the next day.
For a while, the pharmacy sent us a two-week supply of formula, instead of our monthly one. Then, in October, they completely ran out. We were told it was related to the baby formula shortage in the United States.
We had to switch to a different formula, one that came in powder, not liquid form. For us, it meant measuring it out and prepping it every evening.
For Jacob it meant three months of terrible, terrible diarrhea. He simply couldn't digest the new formula. But there was no choice.
Can you imagine one of your family members living with severe diarrhea for three straight months because their medically prescribed food is out of stock?
Thankfully, our cupboard is now full of formula. But recently, on a Sunday, Jacob's tube broke, setting off another crisis about how to feed him.
A piece of crushed pill clogged the tiny tube. For four agonizing hours, we tried all the usual "tricks" to unblock it. Replacing a GJ tube is a relatively minor and quick procedure, but it can't be done at home. It needs to be performed by a highly skilled professional using image guided technology, in a department that is usually only open during business hours.
Without the tube, there's no way to give my son fluid, food or medications.
We drove Jacob, who can't wear a mask due to his breathing challenges, to the ER, knowing it was filled with people with Covid and other contagious respiratory illnesses. The last time we visited, Jacob was admitted for 236 days in order to heal from a cold. You can imagine how frightening it was for him, and us, when we wheeled him through the revolving doors.
Luckily, the specialists were already in the hospital that Sunday inserting two chest tubes, so it only took 10 hours for Jacob's tube change to occur.
That was 10 hours since we arrived at the hospital, but 14 since my son received the last bit of fluid. He missed 1/3 of his daily calories and fluid volume, and about 12 powerful medicines, which are all given through his tube. Scary? Yes. Surprising? Yes. Can you relate? Probably not.
Our health system is crumbling. But what isn't reported is how this directly impacts families like mine, with children with complex medical problems. There were numerous media stories about shortages of baby formula and children's Tylenol. But nothing about children and adults who can't survive without liquid nutrition.
Families of people who use tube feeding know that a 10-hour wait for an emergency tube change is considered speedy. But when you consider the round-the-clock care these families are already providing, is it good enough?
Like this story? Sign up for our monthly BLOOM e-letter. You'll get family stories and expert advice on raising children with disabilities; interviews with activists, clinicians and researchers; and disability news.