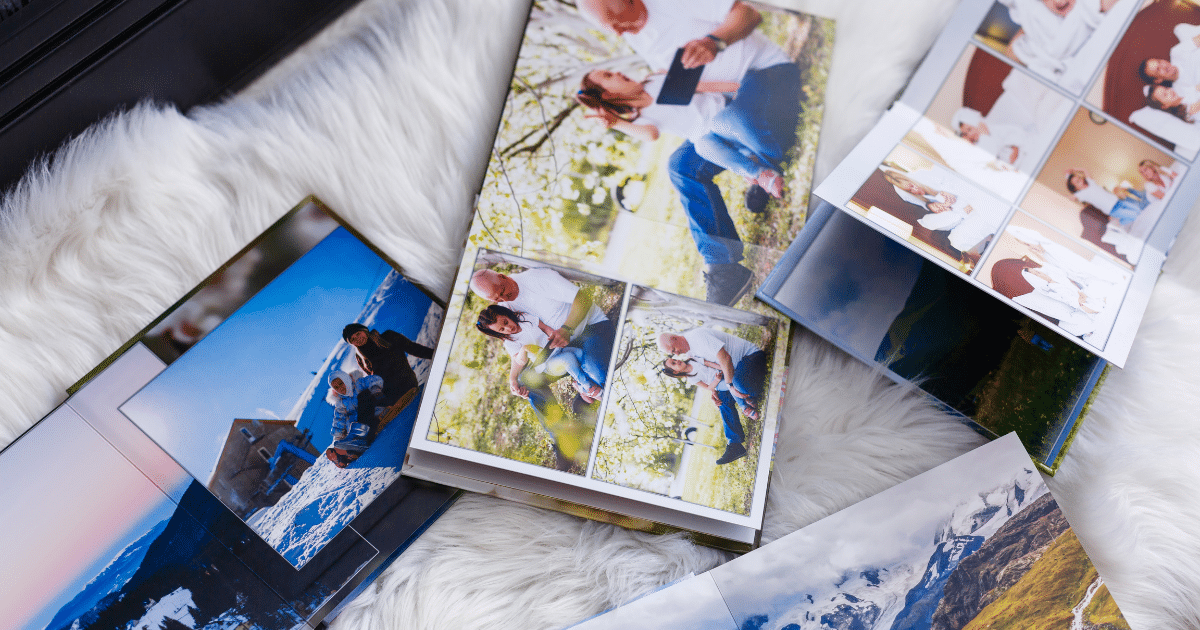 There is no better way to record family memories and preserve precious moments than by creating photo books.
We have a library of them in our house! I use them to mark each year and every holiday. Now my daughters are older, they are so grateful to have their memories recorded, as am I.
In today's fast-paced digital world, photo books have become a popular trend. With so many options available, choosing the best photo book software that suits your needs can be overwhelming. Plus, prices vary considerably.
For this reason, I decided to compare various photo book services and explore their features, benefits, and drawbacks to help others choose the best option for them.
In this article, I share my experiences and insights into different photo book software to help you create a beautiful and long-lasting record of your family's special moments.
Further reading: What's a memory jar and how can it work for my child?
What to look for when choosing photo books in Australia
E

ase of use

Have you ever started to make something online but abandoned the project out of frustration because of the website's complexity? Me, too.

It's a huge turn-off when you log on to a website that promises lots of lovely things but makes the experience too complicated for its users. Requires me to log in (with a credit card!) just to try? Nah. Need to refresh all the time? Count me out. Oh, and I also dislike too many pop-ups.

As a novice in graphic design, I love drag-and-drop builders, so this is the first thing I look for when choosing a photo book software online. Something with simple navigation that makes it easy to upload a bunch of photos and rearrange them across the pages. The great thing is that almost all the recently checked websites are easy to navigate and use.
Prices and special offers
You'll be drawn to lower prices if you're on a budget like me. But we must still ensure the quality of the photo book. Don't get blinded by the price. There are providers that have low prices yet have high-quality products. Some stores price their products at a premium, but the quality is the same or less.
It is also worth noting that display prices are for photo books with a certain number of pages. Extra pages cost more, adding considerably to your overall cost.
Here's a pro tip: Don't get too excited when you see discounts. Check out previous prices on other blogs and maybe even the Wayback Machine when you see a promo. Some unscrupulous websites will pretend to offer discounts to get unsuspecting potential customers to buy their products. Check if there is a difference between the regular and sale prices.
Choice of book sizes and different papers
Another thing to check is how customisable your photo book will be. I love having the option to choose the size and type of paper I want. I prefer matte paper, so it looks and feels like a physical book, so I look for a provider with this option. You might like a specific binding or a padded cover, so you should look for sellers that can offer that. If you want your photo book printed using soy ink or recycled paper, I'm pretty sure there's a seller out there that uses more sustainable materials.
D

elivery options for photo books Australia

Another crucial consideration when choosing your photo book provider is the delivery options. Before you get hyped about a photo book provider, check the shipping policies. It's frustrating when after spending a lot of time and effort creating your beautiful photo book, everything will go to waste because the seller doesn't deliver to your area. So, before you start designing your photo book, take a peek at the shipping policy page or send a message to customer service.

In addition, make sure to check the delivery fees. Does the provider offer a nationwide flat rate? Or is the shipping fee calculated based on the location? Of course, you don't want the shipping fee to cost even more than the photo book or take a huge chunk off your budget.
Customer support
Customer service is the heart of every good business. Fortunately, customers are always willing to rave or rant about companies' customer service. Check what users say about the customer service of the seller of your choice. You would want a photo book provider to respond to your queries and update you on your orders.
How long does the company answer messages? Or do they answer messages at all? Is a human behind their customer service? Or are you just directed to a chatbot? You should check these factors to gauge a seller's customer support.
Customer reviews
Last but not least, read customer reviews before investing your money and effort in a photo book software. It would help to find out what other paying customers say about the product and the company before availing. If you know someone who has used the software, quiz them for the lowdown!
Of course, also try to find authentic reviews. We all know that not all reviews are genuine. Some are paid reviewers. Some are sponsored ads. Some reviews even come from the company itself. So, do your due diligence when looking at reviews. Check the most recent reviews from different review sites before clicking to buy.
Our pick of the best photo books in Australia
Photobook Australia is my personal go-to for my printing needs, including photo books. I love the wide variety of templates that make my photo books look like they were made by a total professional. You can also choose the core thickness to add more weight to your memories. And now, they have a new feature called ColorUp, which lets you print seven colours in HD! I'm definitely trying out this one next time!
What I like most about PHOTOBOOK AUSTRALIA:
Aside from photo books, you can make wall and home decor, stationery cards, calendars, prints, and other gifts for weddings, babies and kids, and corporate events. The website also allows you to shop by the type of cover or binding – super easy to navigate!
How can you go wrong with a provider trusted by 2 million Aussies? You get different options for size, cover (softbound, hardbound, linen laminate or leather laminate), and paper (glossy, premium glossy, satin, matte). There are also over 100 pre-made templates to choose from, so can quickly upload your photos and make your beautiful photo book. You can also create your photo book from scratch. Shipping depends on the number of items you've ordered.
What I like most about SNAPFISH:
Aside from photo books, you can also make canvas, calendars, home decor, photo tiles, gifts, blankets, mugs, and cards. Plus, the first time you sign up, you get 50 10x15cm prints for free!
Unlike the first two sellers in this list, Canvas is the main product of CanvasChamp, as the name implies. But they also create personalised photo books, so they're an excellent option for you, too. What I like about CanvasChamp is you can easily calculate how much you would most likely spend for your photo book right on the homepage. This way, you don't need to scour through different pages to find the price of your order. For me, this feature alone makes CanvasChamp stand out.
What I like most about CANVASCHAMP:
CanvasChamp also has templates, but what I love the most is that these are already arranged according to the occasion. Also, it has fewer customisation options, making it a good choice if you're short on time and must finish designing your photo book ASAP.
Officeworks doesn't specialise on photo books, too, but it is also an excellent photo book maker that allows you to create personalised photo books in a snap. It doesn't have as much customisation options compared to other photo book makers mentioned above, but you can create photo books up to 120 pages. The pages are printed on 150gsm laminated paper, so they're surely sturdy and waterproof, making your photo book a great addition to your coffee table.
What we like most about OFFICEWORKS:
I love that you can shop for your photo book right on the homepage. You can simply click the template of your choice. And you can choose to have your photo book delivered in its own customised presentation box.
Dispatch in two to four days? Check. Up to 300 pages? Check. Highly customisable? Check. Seriously, why did I only discover Journi now? I'm sure you'll love that you can easily locate the photo book creator anywhere you scroll. And the photo book designer? Honestly, it's the prettiest and neatest I've seen! If you want to change the design, you can do so with a click of a button.
On a serious note, though, I love that Journi features short blog-type content that will walk you through the different options for your photo book. If you don't know the difference between matte and glossy, for instance, just scroll down the homepage for information that will help you decide on the type of paper you want.
What I like most about JOURNI:
The website? It's simply so pretty! Compared to the other providers in this list, I love the minimalist design and the rounded edges on the photos and boxes! The design of the website itself tends to increase its trustworthiness, at least to my eyes.