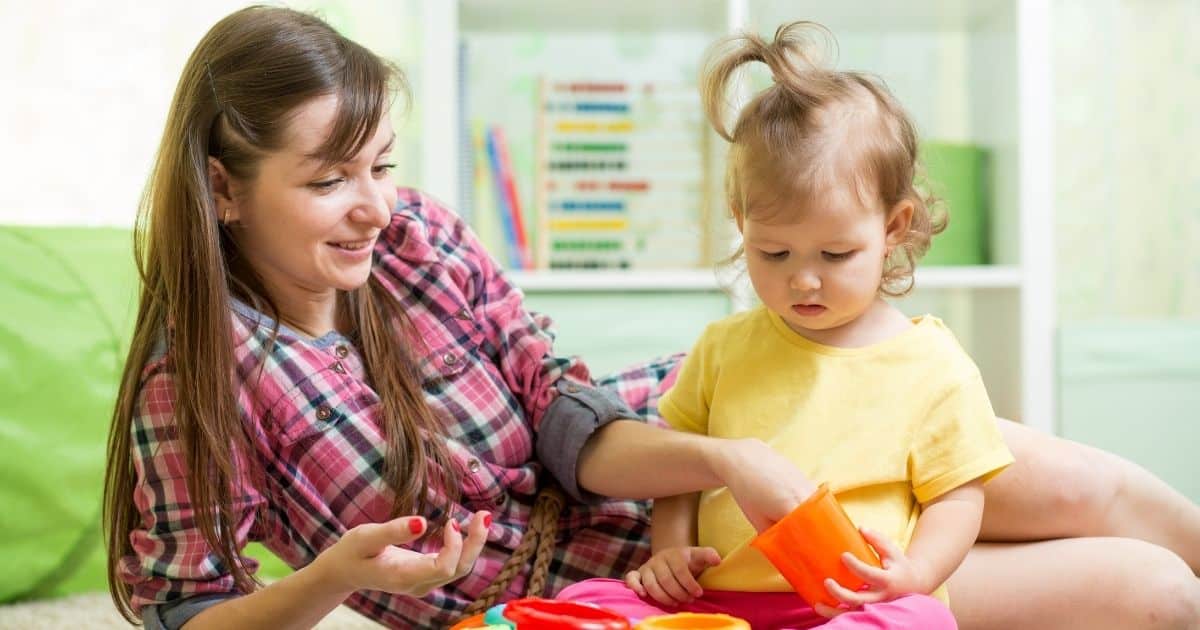 A good babysitter is like gold dust. In fact, finding a good babysitter is like panning for gold. You have to sift through a lot until you find a gem. And doing this has become much easier with the arrival of the babysitter app.
Gone are the days when you had to rely solely on your neighbour's scary gothic daughter because there was no one else to ask. Babysitter apps open up a whole new world, and it's full of people who want to look after your kids!
Suddenly, the odd night out doesn't seem impossible anymore.
Of course, it's not as simple as a Shein order. Choosing someone to care for your little ones has to be done with the utmost care. Luckily, these apps couldn't make it easier.
In this article, we talk about how an app for babysitters can massively help the selection process. Meaning you find the perfect person to care for your precious little people. In addition, we list the most popular babysitter apps in Australia because finding the right app is the first step to finding the right childcare.
Why a babysitter app could solve your childcare problems
Get access to heaps of keen babysitters near you
My main issue with finding babysitters in the past was actually finding them!
This may sound obvious. But where do you find a decent babysitter?
Unless you have an extensive network of friends or are super active in your neighbourhood, the pickings might be slim. And less choice means less chance of finding your very own Mary Poppins.
Apps for babysitters give you instant access to local babysitters within seconds. Yes, a whole group of people keen to care for your kids. Not, as has been the case in the past, your mate's teen who doesn't want to do it but has been forced by their mum.
This alone is a great reason to use a babysitter app.
Further reading: The pros and cons of hiring a teenage babysitter.
You can check the sitter verification
I'm sure that, like me, one of your primary concerns when hiring a babysitter is ensuring their trustworthiness.
These babysitter apps perform Sherlock Holmes-level investigations on babysitters. They check criminal backgrounds, and references, and sometimes even ask for their favourite ice cream flavour.
Just kidding, but they go pretty deep!
This level of scrutiny can give parents peace of mind, knowing they are entrusting their children to a reputable caregiver.
Ratings and reviews show honest experiences
Babysitter apps often come with a rating and review system. This feature allows parents to read about the experiences of other families who have hired a particular babysitter.
These reviews can provide valuable insights into the babysitter's reliability, professionalism, and childcare skills.
It's like getting the inside scoop on the latest babysitting talent in town. All that at the palm of your hand!
No direct price negotiations
Negotiating babysitting fees is a big no-no for me. I've experienced haggling prices with a babysitter. Believe me, it is an uncomfortable experience!
Babysitter apps swoop in to save the day with transparent pricing. No more awkward bargaining sessions; you'll know the cost upfront, so you can budget like a pro.
This also ensures that both parties are on the same page regarding compensation.
Find sitters for whenever you need them
Have an impromptu work event, a medical emergency, or an "I-just-need-a-break" moment?
These apps have a treasure trove of dependable babysitters ready to swoop in when you need them. It's like having a babysitter genie in your pocket.
Babysitter apps efficiently find sitters who can accommodate your schedule. They ensure your little one is in good hands, even on short notice. Talk about convenience, right?!
Some have GPS tracking (they really do!)
Safety is paramount when it comes to childcare. And even if these babysitter apps are trustworthy, having GPS tracking wouldn't hurt.
Some apps (like our recommendations below) offer this feature for meticulous mums out there.
You can watch your child's babysitter adventure in real-time as it allows you to monitor their whereabouts during the time you're away.
This technology ensures that your child remains in a safe and designated area, offering an additional layer of security and peace of mind.
In-app communication
Communication is key, right? These apps have in-app messaging that lets you talk to your babysitter.
Through this feature, you can interview sitter candidates before making a choice.
More importantly, you can easily discuss important details, share your child's favourite bedtime story, or receive updates with a quick check-in. It also allows the babysitter to ask questions in case something comes up.
Accountability (babysitters work hard for good ratings)
Ever wish your job came with a rating system? Well, babysitters have one!
The review system in babysitter apps creates a sense of accountability for babysitters.
They work hard to get those gold stars, so you can trust that they're giving the best possible care for your little ones.
This kind of approach encourages professionalism and excellence within the caregiving community.
Babysitter app Australia
Kiddo
Kiddo is one of my go-to babysitter apps. It stands out for its rating and review system. It is like having a cheat sheet of the best babysitters in town, straight from experienced parents.
This app allows you to book last-minute babysitters, hotel babysitters, and even babysitters for weddings!
One of the best things about Kiddo is many of their sitters are also support workers. So if your child has particular needs, simply input them and the app will work its magic. Their GPS tracking also adds an extra layer of assurance.
It would have been better, however, if they had more sitters available in less-populated areas.
I've used Kiddo a bunch of times, and it's been smooth sailing every time, making my life as a single mum so much easier.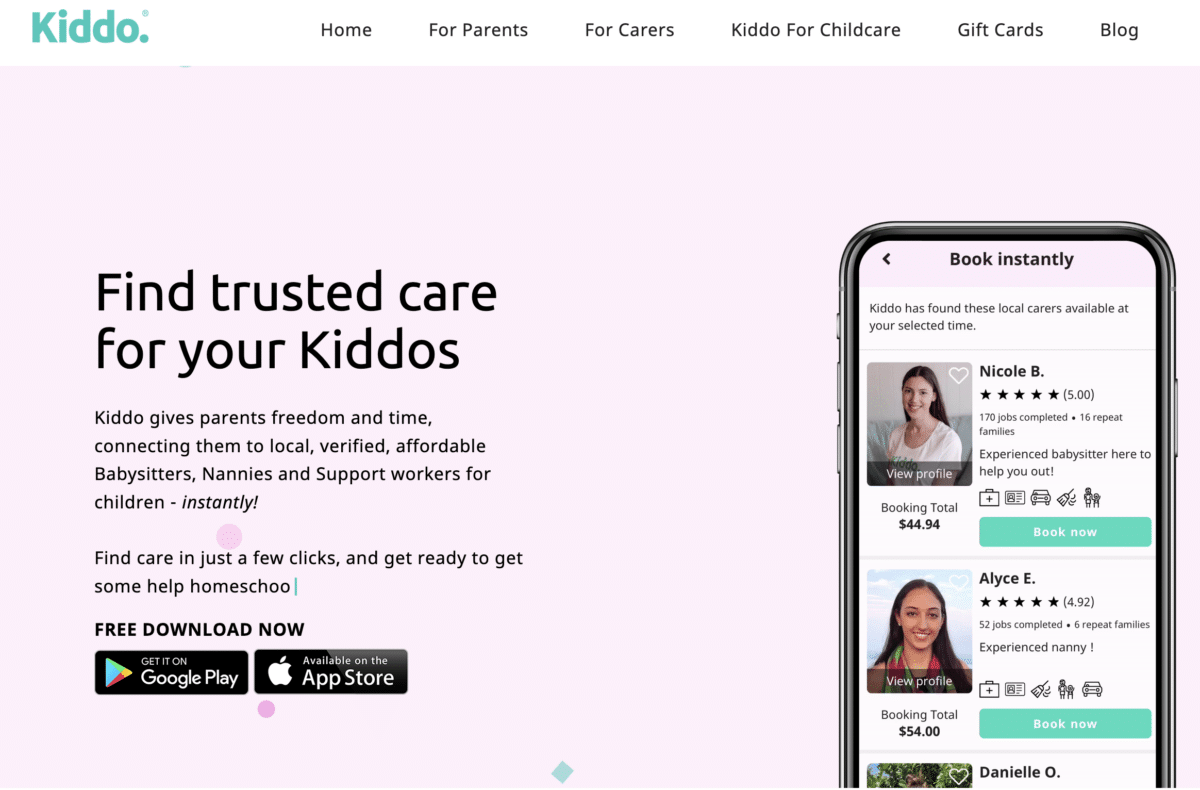 Sittr
With Sittr, not only can you find babysitters, but also regular nannies. All their carers went through a comprehensive screening process.
What I love about this babysitting app is that all their sitters have completed Senior First Aid training, including asthma and anaphylaxis management.
But wait, there's more!
Sittr created their own insurance (called the Public Liability and Professional Indemnity insurance) that's more extensive than existing childcare insurance providers.
Unlike other babysitter apps, you don't have to pay membership or placement fees with Sittr, as they charge by the hour.
My sister swears by it too; Sittr introduced her to an amazing nanny who's practically part of the family now!
Kin
Founded by Perth parents, Kin understands the need for trustworthy and dependable babysitters.
Once you've entered your carer requirements, the app will search for sitters within your community that fit your criteria. So it's perfect for short-notice babysitting needs!
I tried it once, and the level of trust was unreal. You can even meet the sitter and get to know them through in-app messaging or via call/SMS before booking a session.
Kin's key feature is the ability to set up shared care arrangements with other families, making it perfect for social parents. Plus they offer in-app payments for mums who prefer cashless transactions.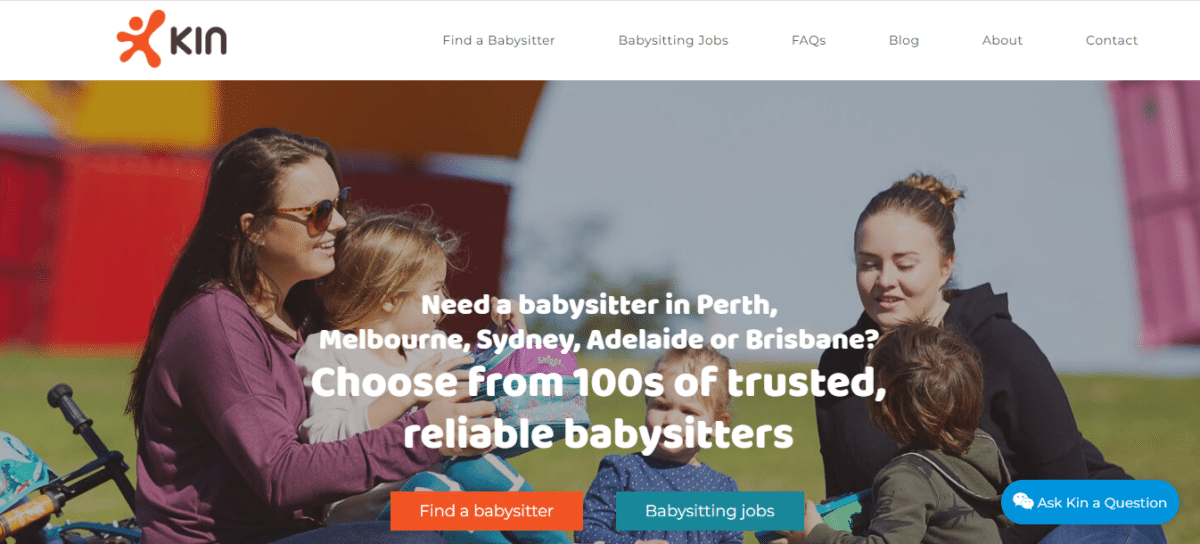 Babysitter app Australia (cont.)
Juggle Street
Juggle Street has been around since 2014. So it has established a wide community of families around Australia and New Zealand.
Finding a sitter is a breeze with its user-friendly interface. Simply post a job on your account. Your job posting will be visible to a network of reliable carers and they can easily apply with a single tap of a finger.
Aside from babysitters, Juggle Street also provides tutoring services.
I've used it to find sitters from my own community. I love the direct communication; it's like having a chat with a friendly neighbour.
The app's flexible scheduling is perfect for busy parents like me. I've had impromptu playdates, and my kids love meeting sitters who live nearby. It's like building a little support network right in my neighbourhood.
BabySits
BabySits is where affordability meets convenience. When it comes to babysitter apps it's perfect for budget-conscious parents like me. I've found plenty of reliable sitters at reasonable rates.
The straightforward pricing structure is a win – no surprises. I've recommended BabySits to a bunch of friends who are all about value for money. It's become their go-to app for finding great sitters without breaking the bank.
With BabySits, you can easily screen potential sitters through their detailed profiles and schedule interviews before booking. It also allows you to download receipts when needed.
BabySits truly understands the need for affordable childcare solutions, and it's been a lifesaver for many of us.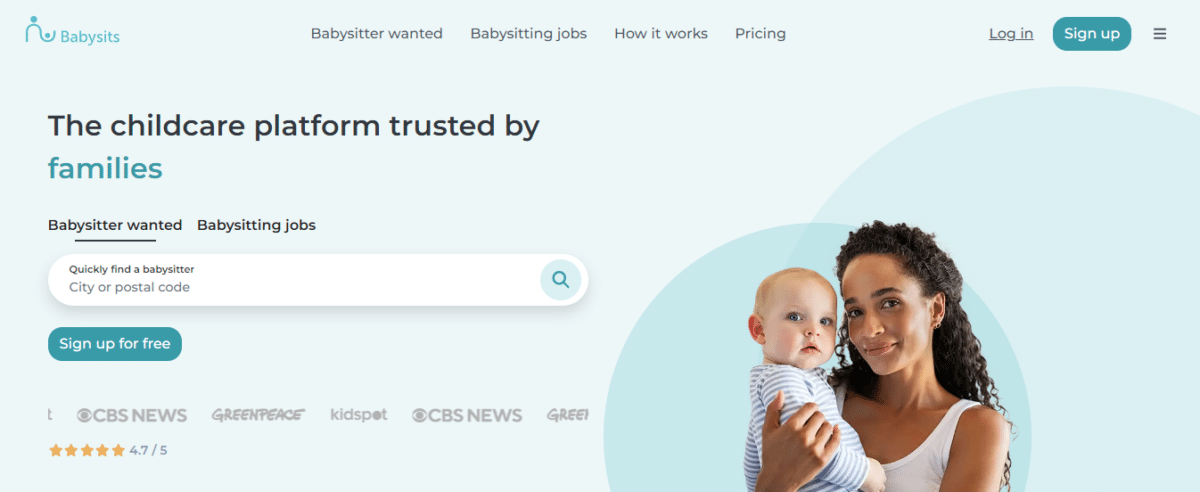 Final thoughts: Finding a babysitter app you can trust
In today's world, babysitter apps are the modern parent's best friend. They've revolutionised the way we find and trust caregivers for our children.
Instead of settling for the neighbour's gothic teenager out of desperation, these apps open up a world of possibilities. They make the whole childcare adventure smoother, safer, and even a bit more fun!
It's not just about convenience; it's about trust. The verification processes, transparent pricing, and community-driven feedback on these apps offer a level of reassurance that traditional babysitting methods couldn't provide.
Whether you need a sitter for a sudden dinner invite, an important meeting, or just some well-deserved "me time," these apps make it possible without compromising on safety or quality.
With the right app, you'll not only find trustworthy caregivers but also gain peace of mind and the freedom to enjoy those precious moments away from home. Finding that childcare gem is easier than ever, thanks to these innovative platforms.