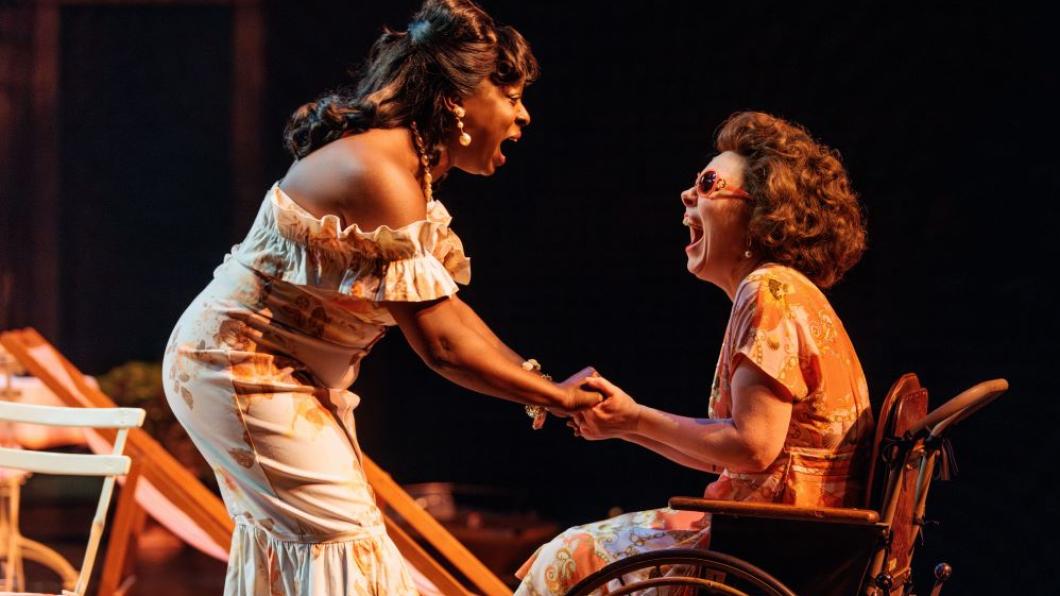 Khadijah Roberts-Abdullah (left) as Signora Locascio and Debbie Patterson as Signora Zampa in Grand Magic. Stratford Festival 2023. Photo by David Hou.
By Louise Kinross
For the first time, Stratford Festival has a disabled actor on stage. This season Debbie Patterson, who uses a wheelchair, plays Signora Zampa in Grand Magic and the Duchess of York in Richard II.
Making the workplace accessible for Debbie, a Winnipeg playwright, director and actor, began in the wardrobe department: Grab bars and space were added in fitting rooms and costumes were adapted to accommodate her leg brace.
Kayla Besse is at the centre of these efforts as Stratford's first Accessibility Coordinator. "Most obviously there's a desire to welcome people to the theatre who historically have been shut out of it," Kayla says. "It's also an exciting opportunity to expand public understanding of who belongs in the theatre, from a patron and artist side."
Kayla's first task when she arrived last September was to fill a last-minute request from a deaf school for American Sign Language (ASL) interpretation of a performance of Hamlet. This was no small feat.
"ASL-interpreted shows require two interpreters for scenes where two characters are speaking back and forth, and those people are artists in their own right," Kayla says. "They spend months of preparation learning a show inside and out—be it the characterization, the pacing, the tone."
Kayla, who has cerebral palsy, took to #DisabilityTwitter to find an ASL interpreter who also knew Elizabethan English. Within five minutes, she was reaching out to Lindsey Snyder, who lives in Washington, DC. "She has a PhD in ASL and Shakespeare, and is a White House interpreter," Kayla says. Because Lindsey had already interpreted Hamlet performances, she felt she could come up to speed quickly, and remotely coached a staff member at the deaf school to be her partner.
You may be surprised to see the range of accessibility services now offered at Stratford Festival: audio-described performances and Braille show programs for people who are blind or have low vision; wheelchair and mobility seating in all four theatres; and performances that come with a "relaxed attitude to noise and movement" for audience members with autism or other needs, to mention a few.
Kayla says the festival's relaxed and ASL-interpreted performances are most popular. "Autism Ontario is bringing a couple of hundred people to our relaxed family and kids' show A Wrinkle In Time."
Kayla says Stratford plans to offer open captioning in the future.
Her role includes building relationships with parts of the disability community who may not have theatre on their radar as an accessible spot.
"We're also trying to counter financial inaccessibility," she says, noting they have Pay What You Wish shows where you can watch a performance for $10. If you have a CNIB card or Access2 card, complimentary admission for one support person is provided. The City of Stratford allows people who have an accessible parking permit to park for free in municipal parking spaces, and pre-paid special access parking is available when you reserve tickets.
Kayla says the actors, production team and staff at the festival are "incredibly supportive" of integrating accessibility into their practices. "Historically, theatre has had an elitist mindset of who belongs, or what it looks like to be a good patron. You need to sit still and be silent. I'm excited to say that not only do disabled people belong on stage and in production and on staff, but we want you to come to the theatre. We've created these spaces for you, and it's okay if you interact differently. It's okay if you need to leave and come back. It's okay if you vocalize or clap when you're not supposed to."
Kayla studied in the School of English and Theatre Studies at the University of Guelph and became interested in disability representation at that time. "I noticed patterns in a lot of classical literature, and in stories we tell in general, that frame disability and illness as nothing but a tragedy, a punishment, as something that codes someone as being a villain and being unworthy. Socially, if we look at romance, the disabled character usually dies in the end."
Kayla was a client at Holland Bloorview and did rehab here following surgeries in the 1990s. After finishing her undergrad, she popped in for a visit in 2016 and dropped by the family resource centre.
"I remember there was a shelf that said Cerebral Palsy and I went over and took a photo and sent it to my mom and said 'Do you remember this?' And she said 'Some of those pamphlets have been there since the '90s.' It was quite medicalized, and didn't seem to speak to a lot of my experiences. Even now, when I go online to places that discuss and share resources on CP, I find they treat it like a childhood illness that goes away, and the person they target is the parent. Where are the disabled voices?"
That prompted Kayla to do a master's proposal on disability representation in memoir. "It was about how we can counter harmful disability narratives in literature and culture that inform cultural and medical bias against the disabled."
Since then Kayla has been exploring disability studies and meeting disabled adults on Twitter. "I wanted to find disabled adults telling our own stories that are not just tragic, and are nuanced," she says.
Kayla worked on a project at The Re•Vision Centre at the University of Guelph where she studied how to bring relaxed performance training to Canada. "It was digging in to how to train people within theatre to put relaxed performances on, how to get feedback from audience members, and how to convince funders." She also worked at Tangled Art and Disability in Toronto, where she "learned so much about accessible art and curation."
She now works primarily remotely for the Stratford Festival, doing in-person visits for several days a couple of times a month. She has found a "culture of care and interdependence there, because people come from all over the place to work here for nine months. If you need a ride to do errands that is already established, whether you're disabled or not." She's met two colleagues who she can carpool with from her home in Guelph, and is provided with accommodation in Stratford and taxi chits to "cab around."
The way a Stratford hiring committee responded to one of Kayla's answers gave her "the confidence to step into the role," she says.
"They asked 'What do you know about the Accessibility for Ontarians with Disabilities Act (AODA) and what is your experience with implementing it?' Especially from working in the arts the last several years, I said 'If you're only interested in the AODA and not going above and beyond in creative ways, then I'm not interested. One, I'm bored. And two, you don't get it.' They said okay to that, and I got the sense these people are ready to play and figure it out and eager."
Learn more about Stratford's access options by visiting accessibility or e-mailing accessibility@stratfordfestival.ca. Like this story? Sign up for our monthly BLOOM e-letter. You'll get family stories and expert advice on raising children with disabilities; interviews with activists, clinicians and researchers; and disability news.