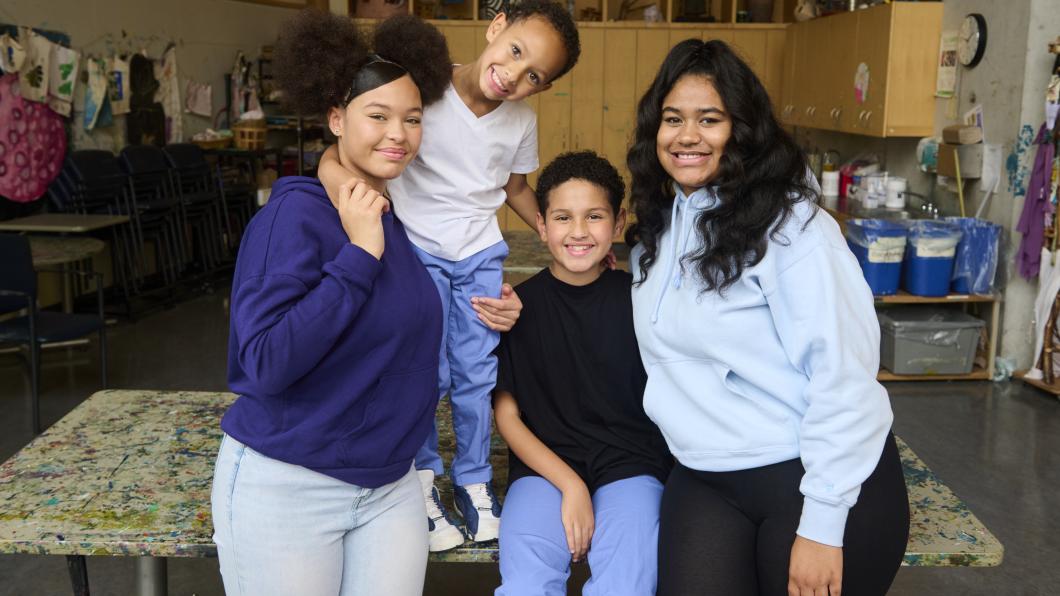 By Louise Kinross
This week the National Institutes of Health (NIH) in the United States designated people with disabilities as "a population with health disparities." That means they experience preventable differences in their health due to systemic discrimination. Previously, the NIH had funded research on health inequities faced by racial, gender, sexual orientation, rural and low-income groups. Families of children with disabilities may identify with a number of these groups and experience multiple forms of inequality. As part of its new strategic plan, Holland Bloorview is committed to collecting family demographic data so that it can tailor its services and ensure equal access. We interviewed Aman Sium, vice president of experience, transformation and social accountability, to learn more.
BLOOM: What kind of demographic data is it useful for us to have as a hospital?
Aman Sium: We need to know many things to fully appreciate who the families are that we serve, that we don't serve, and that we underserve. To name just a few, this includes how they identify in terms of ethnicity and race, household income, number of dependents cared for with that income, sex and gender identity, the particularities of their neighbourhood and their preferred language.
The general idea is that each of these identities and circumstances is predictive of the quality and speed of health-care access, experiences and outcomes. This is the whole concept of the social determinants of health.
Let's take race as a single example. Race itself is not a determinant of health. Nothing suggests that if you're Latinx or East Asian you will inherently experience poor health outcomes. But structural racism is a determinant of health. It can create barriers that families experience on the way to Holland Bloorview, and in the care they get here.
For example, we know that in the U.S. Black children with autism are diagnosed up to three years later than white children. That's not simply because the children are Black. It's because anti-Black racism is prevalent throughout health systems. It limits Black families' access to primary care to get referred to an autism assessment and their experiences of the assessment itself.
BLOOM: Do we track that data in our autism program?
Aman Sium: We don't, but we'll be able to. That will open up potential solutions, like fast-tracking triage for particular populations where the evidence suggests they experience slower diagnosis, or possibly providing more local or mobile care based on a population's or a neighbourhood's needs.
BLOOM: Our decision support team has used external data based on postal codes, the census, and the Ontario Marginalization Index, to show that in the last four years, most of our families live in communities with high poverty rates and racialized and new immigrant populations. Those neighbourhoods also tend to be farther away from the hospital. How could that influence the care they receive here?
Aman Sium: All totally relevant. Let's take poverty rates. The general evidence we have suggests that if you live in a so-called 'materially-deprived neighbourhood' or are a family living in poverty, a few things tend to correlate with that.
One is you may have poor public transit infrastructure or less money in your pocket to get to and from health centres like Holland Bloorview. Two, you are more likely to struggle with any of the fees associated with your care. I'm thinking of non-OHIP medications like Deflazacort for kids with Duchenne muscular dystrophy. Or medical equipment not covered by your local home care region.
Demographic data helps us understand with greater precision which families might need enhanced transit here, such as the hospital's emergency transit fund, or support for medicines like Deflazacort through Holland Bloorview's Family Support Fund. Understanding that a family is living in poverty helps us predict and build out the supports they need to get to and participate in care.
BLOOM: How can we tailor our care to the needs of these families?
Aman Sium: The future is using this data to reimagine how we wait list. We're beginning to explore triaging based on income, race and neighbourhood. We'll also look at creating local, mobile models of care so that we go to people who have trouble getting here.
BLOOM: How successful have we been in asking families for demographic data in the past?
Aman Sium: We launched what is called the Toronto region survey mandated by the old Toronto Central Local Health Integration Network around 2014. We've done it most years except when the region put a pause on it to redesign it. When we collected the survey, I believe our response rate was between five and 12 per cent.
BLOOM: I think you said some Toronto hospitals are capturing 80 per cent of this patient demographic data?
Aman Sium: Yes. Some hospitals have built it into their registration in the ER and into other hard processes that exist everywhere to catch everyone. We could have done better and we will do better.
We never distributed it to inpatients, and it wasn't universally available to outpatients. For the data to be rich, it has to be universal. Ours was also a paper and pencil survey that was given to some families while they were waiting for an appointment, so they might not have had enough time to fill it out. We had a lot of incomplete data.
Our goal is to launch the survey before the end of this year and to ensure it's an 'always' experience for inpatient and outpatient families. Everyone will have the opportunity to share this information, though they can also select not to answer.
Our number one priority is that families get direct communication as to why we're asking, since for many people these are sensitive questions; what we want to do with the information, including that the data will be used to drive socially accountable care; and where it will be stored securely. We want to make the survey accessible so you can do it verbally with a staff member, or digitally on your phone.
BLOOM: Why do we need data about each family as opposed to extrapolating from large datasets based on where our families live?
Aman Sium: Because when you rely on external data you try to build a profile of the family who is in front of you based on their postal code, but there's still a margin for error. In the GTA alone we live in very mixed income communities and different income communities also reside closely together. So using a postal code doesn't drill down with specificity to a family's income and racial identity. For that, nothing compares to being in conversation with a family directly when they disclose who they are and what their circumstances are.
BLOOM: Why are some families hesitant to share this personal information?
Aman Sium: Families who experience the most severe intersectional oppression may be skeptical to share data for fear that it will be used against them. For example, we would not want families to fear that disclosing poverty or food insecurity would be weaponized against them through children's aid involvement or other judgments of the family. We want to do the opposite: to use data to tailor supports. Which means asking for this type of identifiable information needs to be done in an environment and interaction that is as trusting and trauma-informed as possible.
BLOOM: How does our strategic plan aim to improve our accountability to marginalized groups?
Aman Sium: The hospital's strategic goal that is most aligned with this initiative is "care that's socially accountable." An important element of accountability is making sure the right people and communities are shaping the care they're accessing. That's why we need rich demographic data on families.
This video by Mount Sinai Hospital in Toronto explains the value of collecting patient demographic information. Like this story? Sign up for our monthly BLOOM e-letter. You'll get family stories and expert advice on raising children with disabilities; interviews with activists, clinicians and researchers; and disability news.