It's the end of the school year and Christmas to boot, so we all know what that means … gifts for teachers (and don't forget childcare).
Not only is this tradition, but it's a good way to teach children about giving back to the people who have worked hard to educate and care for them over the past year.
Whether your child had the 'best teacher EVER' or is just glad the year is over, it's good to gift a little something to show your appreciation.
What to consider when gifting a teacher
Make your gift to teacher unique so it stands out and is something different from what they expect or usually get.
What do you know about your child's teacher? Are they known for a love of coffee, fishing or anything else. Giving a thoughtful gift will mean more, and will likely be more useful.
Think about grouping together with other parents/students and buying teacher something larger and more significant, such as a spa day, an experience or a voucher for their favourite shop or restaurant.
We all love an edible gift but make sure it has a long shelf life or is non-perishable. If your teacher receives ten boxes of lovingly baked cookies, they won't be able to eat them all and that will be a waste.
Consider the relationship your child has with a particular teacher and base your gift around that. If you child is known for stressing out their poor teacher, give them something calming such as a candle or a stress relief colouring book!
The same way you have to label absolutely everything for school, remember to label your gift so they know who it is from when they get a quiet moment to go through everything they have received.
Still struggling for ideas? See our list of teacher gift ideas below, or these lists for further inspiration:
22 Homemade Christmas gift ideas that are easy to make
50+ Christmas gift ideas for women
50+ Gifts for dad for under $50
17 Gifts for teachers which they'll actually really like
1. Teacher planter stem
We've got something special for those amazing teachers, daycare providers, and carers. These Teacher Planter Stems are a thoughtful way to show gratitude.
Each one is unique, featuring your choice of saying and a lovely floral design. Personalise it with your child's and teacher's names.
Available at: Name It Custom Decor
2. Thank you for putting up with my kids candle
Consider gifting them a sweet 'Thanks For Putting Up With My Kid' candle.
It's a little token of appreciation for all the love and care they pour into our little ones. Trust me, they'll cherish it.
Available at: Esty
3. Personalised tote bag
This heavy-duty canvas tote bag can fit all your favourite teacher's essentials and more. Personalise it with their name for
Available at: Etsy
4. Teacher stubby holder
Got a male teach who loves his beer? How about this cool stubby holder? You could fill it with lollies, or even include the beer.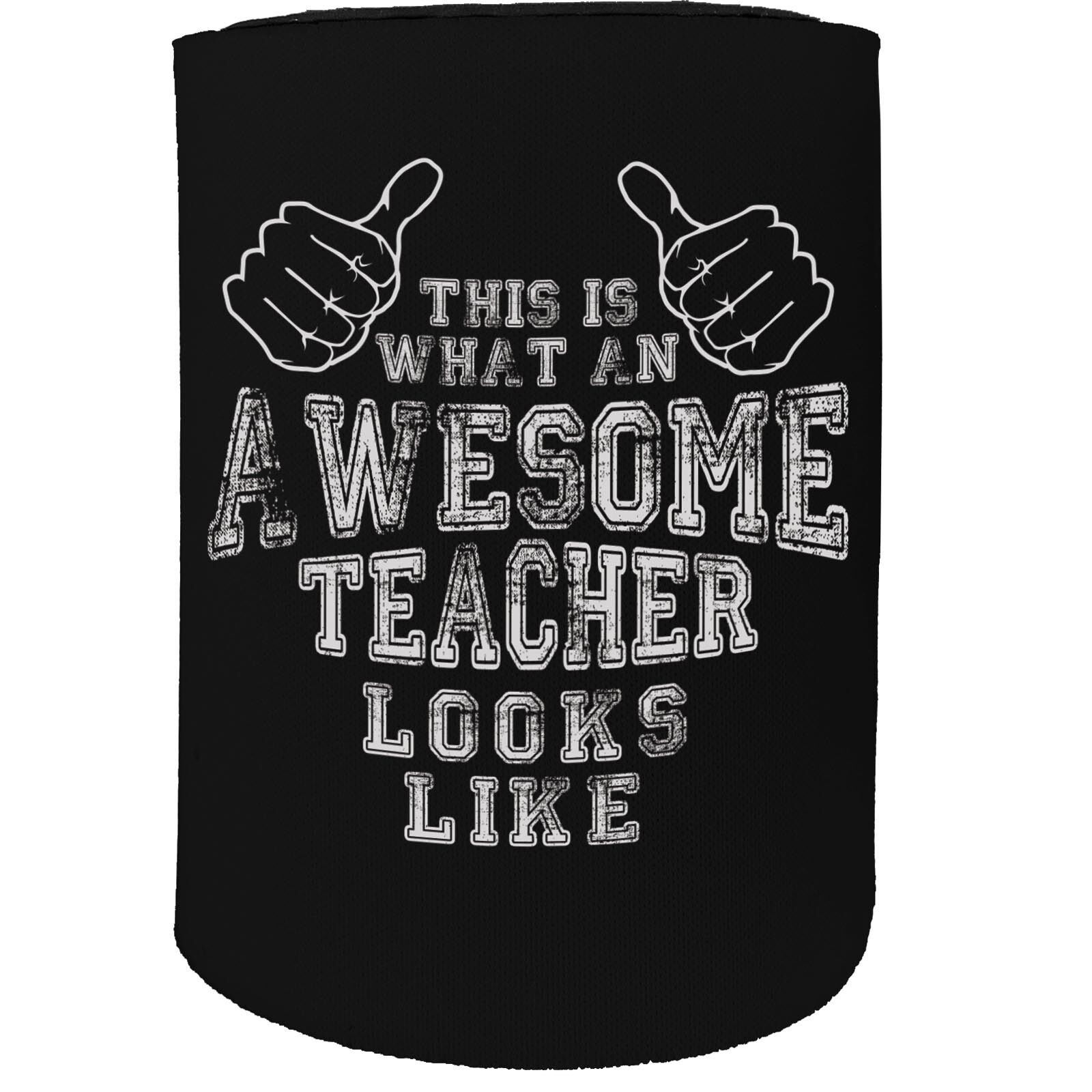 Available at: eBay
5. Personalised alcohol gift box
Give your kid's teacher a lovely custom gift box to hold a bottle of wine, champagne or their preferred alcoholic beverage. They'll adore the name engraving and custom message.
Available at: Etsy
What would teachers like as a gift (cont.)
6. Personalised teacher coaster
Thank your teacher with these cute personalised coasters that come in 16 different designs. Perfect for tea time or happy hour!
Available at: Bright Star Kids
7. Personalised cookie jar
These personalised cookie jars are great for an inexpensive yet personal gift. The bottle is just the right size and perfect for gifting sweet treats or small stationery pieces.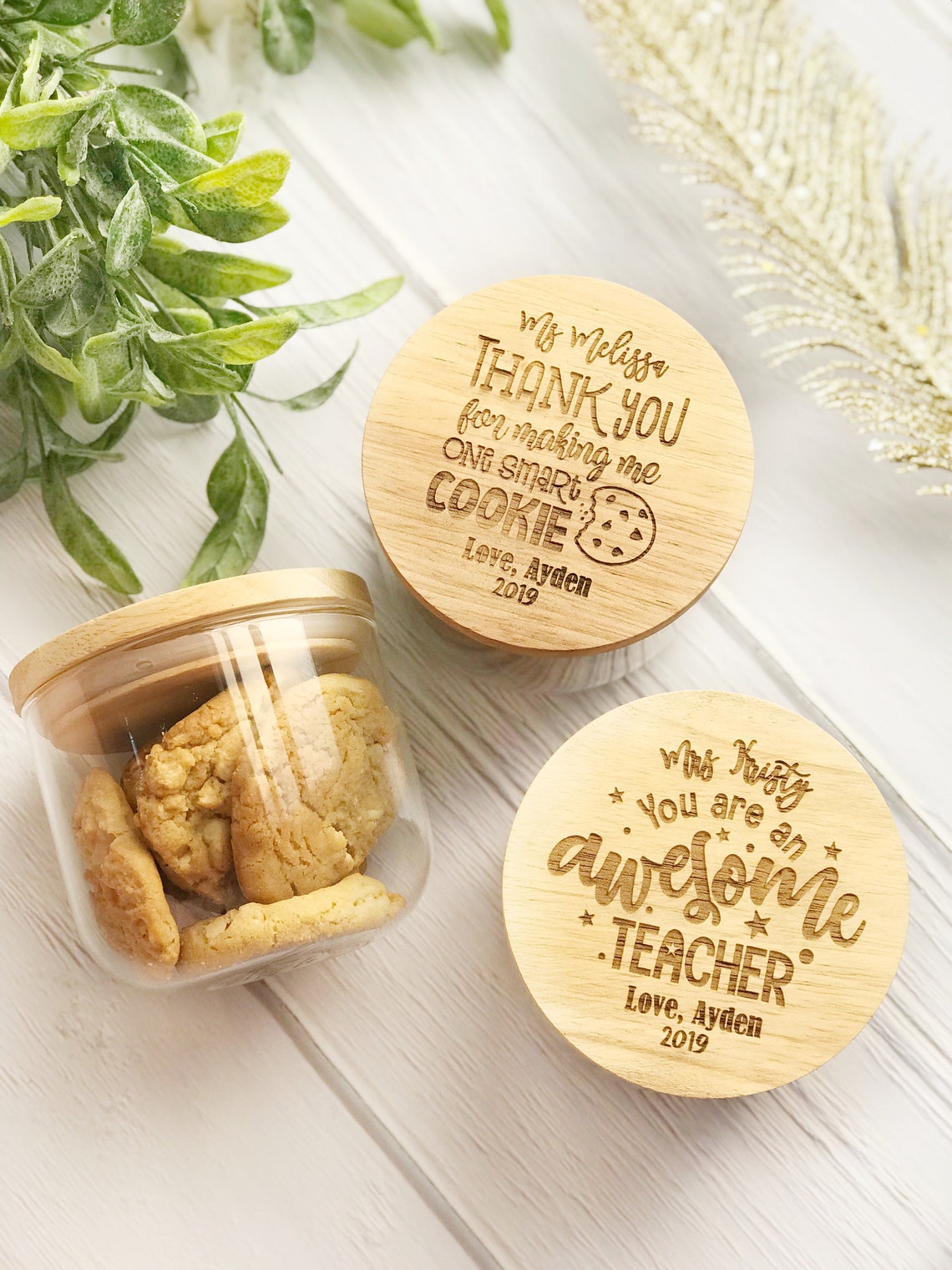 Available at: Etsy
8. You rule bamboo ruler
This personalised bamboo ruler from Etsy lets your favourite teacher know that they rule. It's laser engraved and comes in two lengths: 6 inches and 12 inches.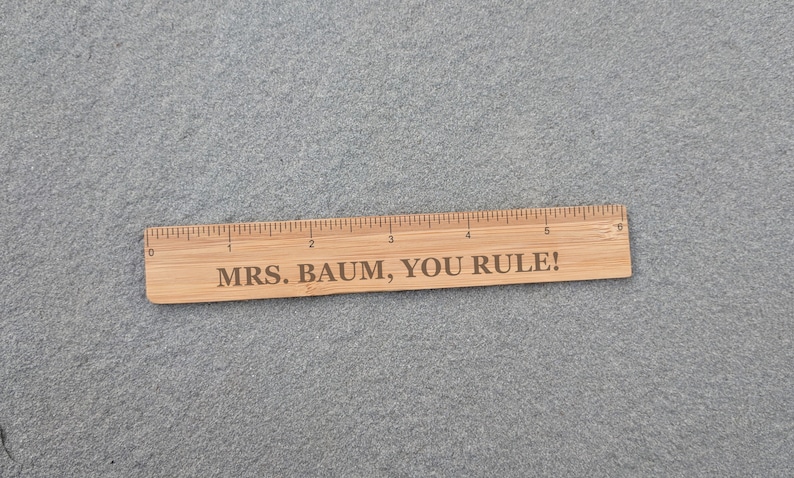 Available at: Etsy
9. Teacher planter stick gift
Here's another winning gift for plant lovers. A planter stick that says "Thank you for helping me grow." Customise it with a lovely message to thank your teacher for a job well done.
Available at: Etsy
10. How teachers swear colouring book for adults
This colouring book is filled with relatable teacher humor, and trust me, it's a riot! It's not just about swearing, but it's all in good fun.
I think it's a fantastic gift idea to show our appreciation. They deserve a bit of humour and relaxation, don't you think?
Available at: Dymocks
Gifts for teachers from students (Cont.)
11. Thank you dozen brews
Brewquets is our go-to shop for alcoholic gifts that are guaranteed to make teachers smile. This box is filled with a dozen different beers that are perfect for after-work relaxing.
Available at: Brewquets
12. For the best teacher ever quote book
Let your teacher know how much you appreciate them with a book of inspirational quotes. An ideal gift for the end of the school year.
Available at: Booktopia
13. Personalised tea towel
Prettify a boring tea towel with a personalised message and custom design that your teacher will love. 100% cotton and washing machine safe.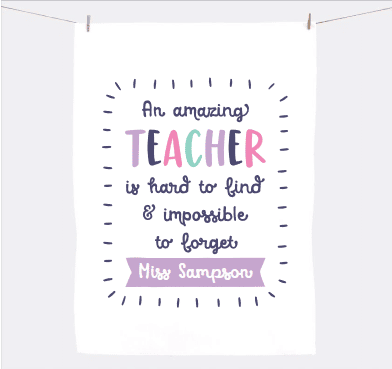 Available at: Bright Star Kids
14. Teacher appreciation gift keychain
These keychains are really neat- they come in all sorts of designs and styles. From apple-shaped ones to ones with inspiring quotes, there's something for every teacher.
It's a little token they can carry with them every day. It's a small gesture that goes a long way in brightening their day.
Available at: Wish
15. Personalised wine labels
Make your teacher feel like the superhero that they are with personalised wine labels from Bright Star Kids. Available in hundreds of designs.
Available at: Bright Star Kids
16. Personalised timber beer caddy
We didn't forget the caddy for your teacher's beer! This vintage-style steel-and-timber carrier fits six beers, comes with a built-in bottle opener, and can be personalised with a name or funny message.
Available at: Yellow Octopus
17. Teacher off duty socks
Socks are always a winning gift for teachers. Not only are they practical, but they'll be secretly chuffed to be considered a 'cool teacher'.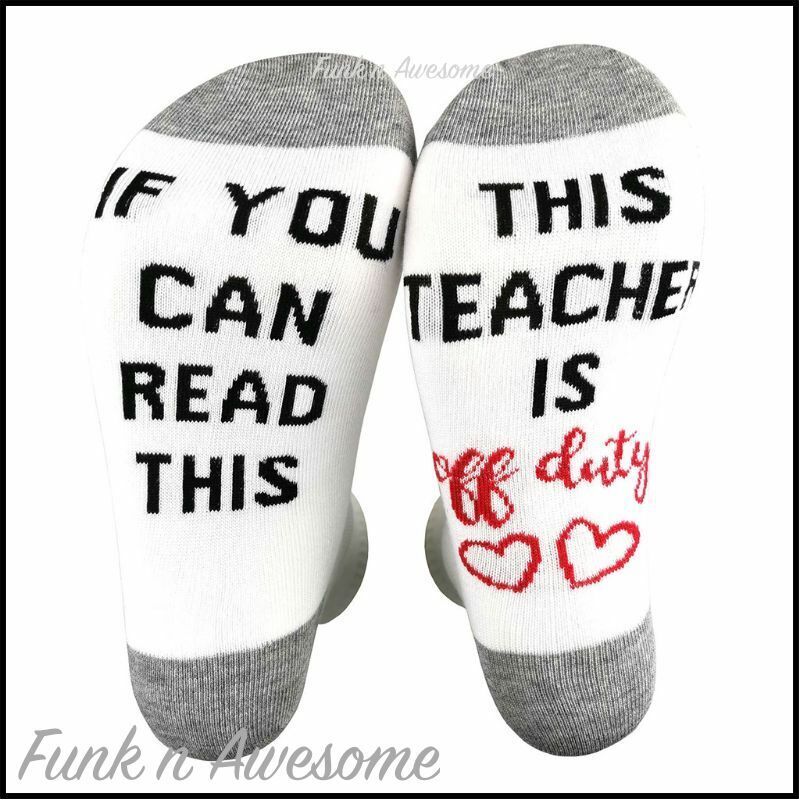 Available at: eBay
Final words on gifts for teachers
As the school year wraps up and the holiday season sneaks in, let's not forget the unsung heroes of education – our teachers! It's the perfect time to shower them with appreciation, and hey, it's also a sneaky way to teach our kids about gratitude.
When it comes to gifting, make it memorable and quirky. Think outside the apple-shaped box! Find out what makes your teacher tick, whether it's coffee, fishing, or a secret passion for interpretive dance. A personalised touch goes a long way.
Got a case of collective generosity? Join forces with fellow parents or students to go big with a spa day or their favourite shopping spree – it's like a group hug in gift form.
Practicality is your BFF, especially with edible treats. Ensure they won't go stale before summer break ends. Tailor your gift to the teacher's personality and your kid's relationship with them. Stressed-out teacher? Calming candle. That's math even we can understand.
Oh, and don't forget to label your gift – teachers appreciate clarity almost as much as a quiet classroom. Check out our list of teacher gift ideas for inspiration. After all, they've earned it.
Let's give 'em something to smile about!