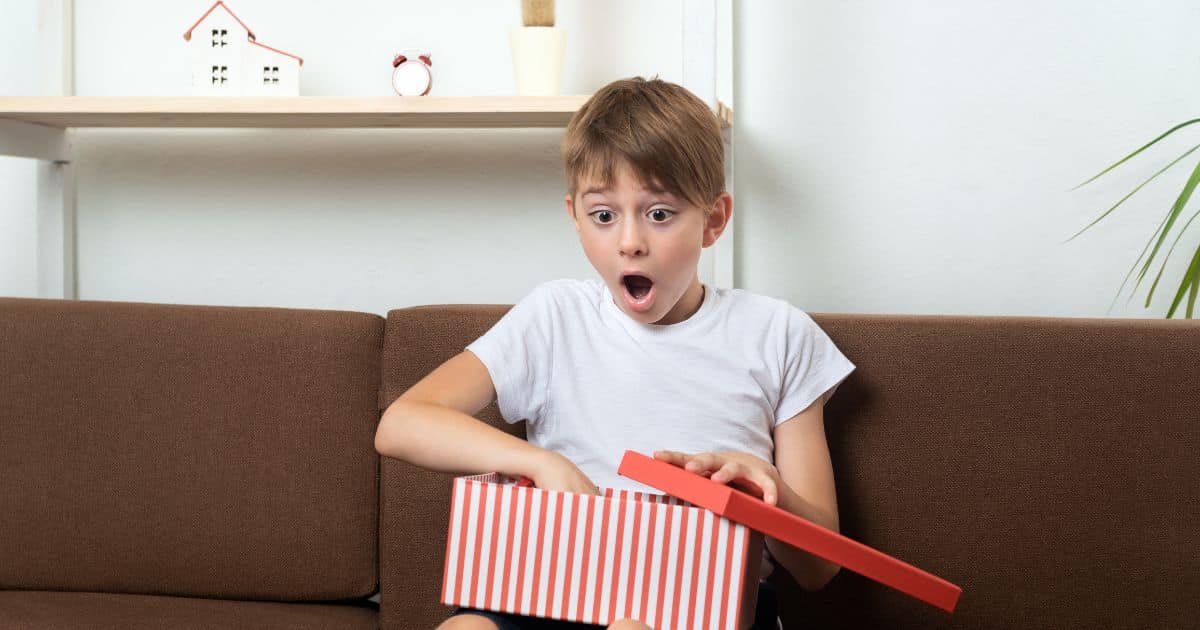 No longer toddlers and not yet teens, young boys are into everything. The question is: What gift will get you the biggest smile?
We love choosing gifts for little boys as you can get all silly and buy jokey bits as they love, love, LOVE a practical joke. Or try dirty and grubby, think mud, slime or insects. Of course there are the little boys who adore their sports, whether it's soccer, basketball or fishing. Or the electronics buff who will be content with a toy drone or a walkie talkie set. Ah yes, don't forget something that makes a big bang as little boys can't resist a controlled explosion, how about a play volcano or a science set? And, of course we have our quieter boy who loves a good book or a games console to lose themselves in.
The list can feel endless and maybe a little overwhelming. For inspiration and ideas, browse our list of gift ideas for primary school age boys.
More to get? Keep looking here: 20 Cool stocking fillers for little boys.
Cool Gift for Boys
Mini Drone
A drone is one of our top gift ideas for young boys. We recommend a mini drone that is easy to control and fly.
We found this at: Big W
Trampoline
A trampoline that's safe and secure is a must for your backyard. Designs like this one protect kids from metal components.
We found this at: Kogan
Their Favourite Dress Up
It's easy to play pretend with the right costumes. Iconic cartoon characters are always a winner with little boys and can be re-used for Halloween.
We found this at: Costumes
Beach Towel
When it comes to gift ideas for young boys, an awesome poncho beach towel is perfect. Choose from an endless variety of designs.
We found this at: Temple & Webster
Fishing Set
Teach your children how to fish with a fishing set made for tiny hands. The fishing pole, lures and tackle are kid-sized and easy to handle.
We found this at: Amazon
Books
Give your kids a head start in reading with books and magazines that they will love. Comic books with drawings are perfect for primary school.
We found this at: Booktopia
Gifts Ideas for Young Boys (Cont.)
Smart Watch
Not old enough for a smart phone? Give your boy a smart watch that has call and text functions, a camera, tracker, and SOS for emergencies.
We found this at: Spacetalk
Snorkel and Mask
A snorkel and mask can make swimming in the pool or ocean easier for kids who are still learning. Choose high-quality materials for durability.
We found this at: Ebay
Backpack
Young boys will always find a use for a new backpack. Pick a cool design that matches your child's personality.
We found this at: Bright Star Kids
Robotic Claw
This kit lets your kids build their own robotic claw to pick up all sorts of objects! It's easier than you think and incredibly fun.
We found this at: EdResources
Scooter
It's easier to get around the neighborhood when you have a scooter. Plus, it develops balance and coordination. Pick one that is designed for safety with soft grips, smooth bearings, and a non-slip grip.
We found this at: Big W
A Tent!
Gifts for young boys who love adventure? We got you. A classic camping tent will keep your kids comfy and protected from the elements.
We found this at: Big W
Presents for Boys (Cont.)
360 Degree Virtual Reality Glasses
Virtual reality glasses are all the rage right now. Young boys will be amazed to experience the world in 360-degree 3D for the first time.
We found this at: Gifts Australia
Smart Puppy Robot Dog
Kids want a dog but hate cleaning up after them? Give them a robot dog. It does everything a real puppy can do (and more) minus the mess.
We found this at: Crazy Sales
Telescope
We love STEM gifts for young boys. Get them a telescope has two eyepieces to supersize their view of the world and night sky.
We found this at: Yellow Octopus
Marble Run
Make marble races ten times more exciting with a marble build set. It's a great bonding activity for parents and kids. Although marble runs come in different designs, a natural colour makes it easier to fit somewhere as an interesting decorative piece once your boy doesn't want it in his room anymore.
We found this at: Spotlight
Board and Card Games
Keep the smartphones off for game night with fun board and card games like Pictionary. Many board games have adult- and kid-level clues so the whole family can join.
We found this at: Toymate
A Bike
Learning to ride for the first time? A balance bike is perfect. The low frame makes it super easy to balance and build confidence.
We found this at: Bicycles Online
Illuminated Globe
This globe lights up and features animals of different countries. Fun and educational!
We found this at: Lime Tree Kids
Build Your Own Smart Tabletop Robot
Robotics is easy to learn when you have the right tools. A build your own robot kit teaches kids the basics in a fun and engaging way.
We found this at: Yellow Octopus
Scalextric Set
Modern kits have everything you need to race toy cars indoors or out: cars, race track, hand controllers and power supply.
We found this at: Kogan
Games Console and/or Accessories
Game consoles for young boys don't have to be boring. Ones that require no internet or downloads are super awesome. Simply plug into your TV and play.
We found this at: Big W
Easel
For little artists who love painting and drawing, a big easel will help improve skills and creativity. We recommend getting an easel where one side is dry erase and the other is a chalkboard.
We found this at: My Deal
Soccer Set
Get your boys outdoors with a backyard soccer set that lets them play hockey and soccer and practice their baseball/softball skills. Get a set that's made from durable materials for years of fun.
We found this at: OZ Sale
Giant Puzzle
Like board games, puzzles are excellent for teaching young kids logic and problem-solving skills. A giant connect fours is ideal for the backyard.
We found this at: Ebay
26. Train set
Young kids love train sets. This one comes complete with a track and battery-operated train. Super easy to assemble.
We found this at: Yellow Octopus
Final words on gift ideas for young boys (primary school age)
When it comes to finding the perfect gifts for young boys of primary school age, the options are as diverse as their interests and personalities.
From mini drones that ignite their sense of adventure to trampolines that promise hours of outdoor fun, and from books that nourish their imagination to smart watches that keep them connected in a digital world, there's a gift for every type of young boy.
For the prankster, consider a robotic claw or a smart puppy robot dog that brings endless entertainment without the mess. For the budding scientist, a telescope or a science set can spark their curiosity about the world around them. And for those who love creativity, an easel or a build-your-own robot kit can unleash their artistic and engineering talents.
Remember that gifts are not just material possessions; they're a way to nurture their interests, fuel their passions, and create cherished memories.
Whether they're into sports, technology, nature, or art, the perfect gift can light up their faces and leave a lasting impact.
Explore these ideas and choose a gift that will bring the biggest smile to the special young boy in your life.