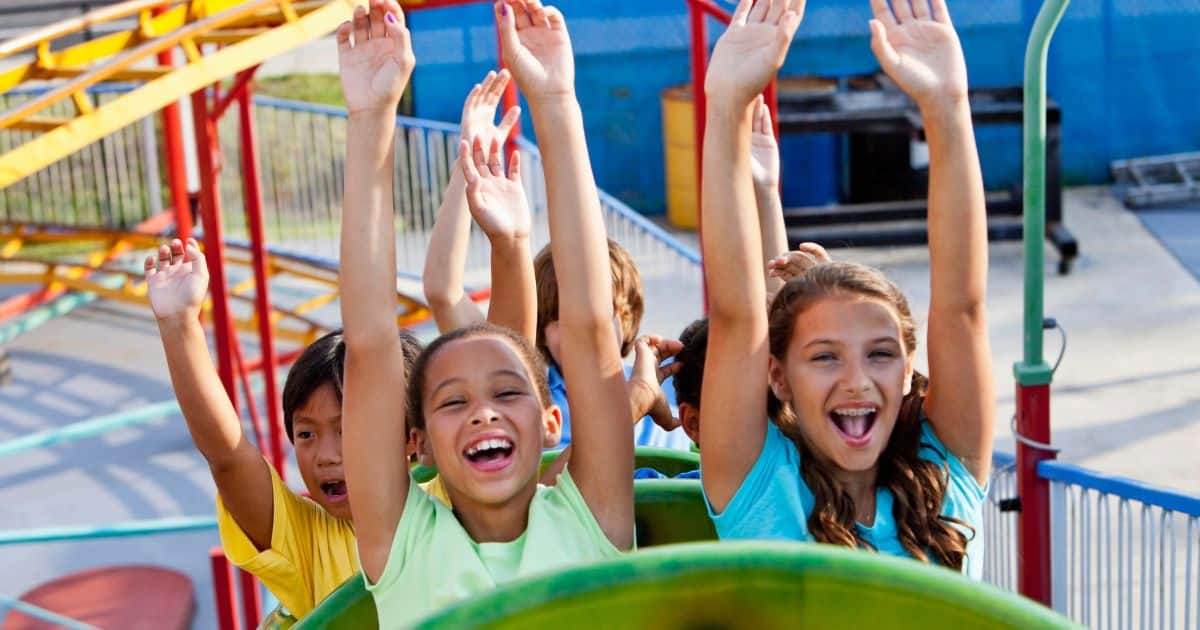 The Gold Coast is one of the most popular tourist destinations in Australia, not least because of the big adventure fun parks. The only problem is the price! In this article I'm going to share 20 (yes 20!) easy ways to get cheap tickets to Gold Coast theme parks.
To start, there are five parks. They are:
Dreamworld
Warner Bros. Movie World
Sea World
Wet'n'Wild
WhiteWater World
Each park is brilliant. And, if you're making your way to the Gold Coast for a family holiday you'll want to visit them all … ideally without having to re-mortgage your home.
Please don't just click and buy as there are some really cool ways to nab yourself discount tickets. Taking your time and finding a bargain could save you hundreds of dollars.
Here are 20 suggestions for hunting them down.
Further reading: How to bag yourself a cheap family holiday.
Cheap tickets to gold coast theme parks
1. Buy park multi passes
If you are planning to visit more than one park, do not, I repeat, DO NOT buy tickets to the parks individually.
WhiteWater World and DreamWorld are commercially linked. As are Sea World, Wet'n'Wild and Warner Bros. Movie World. This means you can buy tickets for them in one hit and save.
Essentially if you do all five parks, you should only book two lots of tickets.
Keep an eye out as some third party bookings platforms will bundle all five together for one easy, and possibly cheaper purchase.
2. Buy an annual pass
If you're planning an annual pilgrimage to the Gold Coast because you love it so much, you can save a wad of cash by going for the annual pass.
A few years back, my kids and I joined some of my relatives for a day trip on a waterpark adventure. Looking at the daily cost of a ticket, I was reluctant. Then, I scanned through the annual passes and realised it was way cheaper —you can snag extra discounts on parking and food too.
Seriously an annual pass is super worth it. Even if you just stay for a week, the discounts that you can get are steep enough that your pass pays for itself.
3. Buy a family pass (not individual passes)
Yes, travelling with the family is fun and forms a stronger bond … but not just that, it's cheaper too.
Growing up in a big household, I was used to travelling with a pack of over 10 people. Therefore, we would always buy a family pass for our holiday adventures. This year I plan to do the same with my kids on our Gold Coast visit.
All in one family pass; you can access a series of Gold Coast adventures like the Dreamworld and Movie World without paying a bulk.
Seems like the more activities I book, the more I can save.
4. Join the RACQ
The RACQ in Australia is known for roadside breakdown … as well as cheap tickets to Australia's biggest attractions.
At the time of writing you can save on tickets to Dreamworld, WhiteWater World and the SkyPoint Observation Deck. All of which are great Gold Coast attractions.
They also do a Dreamworld Locals Annual Pass which comes with a bonus food voucher.
For a Queenslander such as myself, it's a bargain for discount tickets, and of course the roadside assistance.
5. Or the NMRA
My NRMA is a membership program that offers rewards and assistance packages to adventurers to explore the best Australia has to offer in the most economical way.
Getting you to enjoy a full range of Gold Coast theme park activities such as Warner Bros. Movie World, Sea World and Wet n' Wild … while still going cheap.
All members can enjoy an exciting deal with 3-day, 7-day and 14-day passes to choose from. They even got a bonus save on entry to White Water World and Dreamworld.
There's a variety of theme parks to explore, and you, your kids and the whole family can enjoy all of them at a discounted rate.
6. Don't buy your tickets at the gate
If there are two things that I've learned in my years of jet-setting is that you don't travel on impulse. Second, you don't buy your tickets at the gate – if you can help it.
Why the fuss? Purchasing your Gold Coast theme park passes at the gate is usually $10 more expensive, yes, you heard that right, another $10. Just imagine taking the long line at the gate (while moving slowly) and paying extra … umm, nope.
There are many action-packed rides to be had in Gold Coast – family-friendly theme parks with animals that will surely take the boredom out of your brood. So, be sure to get the best deals to enjoy all of them.
Take the line online, because it's a lot cheaper that way.
7. Check specials on Oz Experience
Ever heard of OZ Experience? If you haven't, you should check them out before buying your Gold Coast theme park passes. Why? Oz Experience has tons of great deals made for travellers like you.
Experience Oz is an Australian travel arrangement company that books tickets to all the best attractions of "The Land Down Under."
Right now, they have on-sale deals for tours, cruises and activities, whether you're flying through New Zealand or Australia.
From Dreamworld single-day admission to a 7-day theme park pass (Movie World, Sea World & Wet 'n' Wild entry) they offer bonus deals, $10 cheaper than the front gate prices. Plus, no credit card fees.
8. Book Oz Experience via Cash Rewards
Even better than booking directly through Oz Experience, you can book via Cash Rewards. This means you get your tickets at the Oz Experience price and money back.
The amount of cash back you receive varies but for Oz Experience it is usually 2%+. You can then withdraw the money saved to your bank or Paypal account.
If you are booking lots of tickets for experiences around Australia, the saving can be significant allowing you to spend on extras in the parks.
9. Get a Groupon special
Groupon is popular for its great deals. So, if you're overdue for a much-needed vacation to spend time with your kids, you can make a straight beeline for Groupon and get stacked with travel coupons and discounts.
As a huge fan of Groupon, I can firmly say that their flash deals are loaded. Geez, they have an entire section just for travel alone.
From 15% off for your first Groupon getaway deal, 25% off for your first hotel booking and 40% off for flights and hotels in a 24-hour sale, this app can help stretch your dollar further.
So, if you want to get your hands on cheap Gold Coast theme park passes, welcome Groupon into your world.
10. Book a package (hotel + tickets)
There are several perks to booking hotels and tickets together. One of these advantages is bundle savings; courtesy of package deals that offer very low prices than paying for your tickets and hotels separately.
You can find tons of these cost-saving package deals (hotel + tickets) on Booking.com and similar sites.
By clicking on their "flight + hotel" feature, you can select your preferred dates, number of guests and the package discount automatically applies to the original price (before taxes and fees), saving up to $625.
And do you know what makes this package deal even better? On top of the automatic discount, you can also apply for the Genius loyalty program discount.
Get acquainted with online package holiday sites and find the best package deals before you fly to the Gold Coast.
11. Check out Cudo
Do you believe that travelling is one of the things that makes you richer the more you do? Travelling with Cudo makes you feel just that.
Cudo is a travel application that gives the best experiences and deals in a wide range of offers that get you up to 50% discount. Whether you're just hanging at home or away to Gold Coast, they have a new everyday deal added to their travel feature.
Even better, they have a "buy now, book later" service which allows you to book a vacation and pay it in instalments with zero booking fees, for at least six months.
Thus, if you're looking to get a hold of cheap Gold Coast theme park passes, you might want to check out Cudo.
12. Check out Scoopon
Scoopon is one of Australia's leading companies that offers the best travel deals. I've used Scoopon Travel several times before and guess what? I got to score at least 50% off the normal price of my travel expenses.
What I love about travelling with Scoopon is the savvy promo code deals – you get instant 10% off your first travel purchase already.
With their discount code, you have a wide assortment of cheap Gold Coast theme park passes and get more value for your money.
So, check this one out online. It may seem too good to be true, but it's totally legit!
Social media is skyrocketing in popularity these days, talking about over 4 billion daily users. With so much potential it offers, companies are taking their marketing gimmicks right on Facebook, Twitter, Instagram and TikTok.
As a non-active social media user, I can thank my friends for roping me into using my social media for my holiday family getaways. By following social channels, I got a first-hand glimpse of online travel specials.
You'd be surprised how connecting with people (with the same travel interest) and companies can help your spontaneous saving agenda.
What's even better is that you just don't get discount information on your travel, you also get a video insight (actual travelers) on what you're buying before you purchase it.
14. Use The Entertainment Book
What's The Entertainment Book? It's an Entertainment Membership program that offers staggering discounts (up to 50%) on travel and attractions.
Is it really worth it? Yes!
As an avid travel saver, I was enticed to take out a year membership. The Entertainment Book membership fee was around $70.
So, I tried booking a ticket for a holiday family trip to Australia and was totally wowed … I got one free admission ticket and a free upgrade to multi-city.
In a week, I was able to save over $100. The trick is to spend more, in order to score discounts, which I have no problem doing with my kids around.
The discounts vary from different cities though, so be sure to check first before booking.
15. Gather more people for a group discount
When travelling, it's always the more the merrier. But if you're a prudent traveller (like I am) the more people, the bigger the discount.
If your next travel destination is Gold Coast's theme parks, there's an incredible group booking discount that awaits you. Excited?
Here's the deal: For 20 or more people who are purchasing tickets and pre-pay a minimum of three business days in advance, you can avail of the group booking discount.
From airlines and hotels to tours, you can save a significant amount of money around 15% to 50%, depending on the dates you're visiting.
Let's see, you get to travel with a happy pack, and then get offered awesome group packages. It's a win-win.
16. Do two parks in one day
Heading to the Gold Coast? If you want some good touring advice, do two parks in one day and save money along the way.
This is especially handy if you are short on time. Although I will warn you that these parks are big, and you really need a whole day to enjoy them.
Doing two parks in one day is about geographical local and ticket purchase.
For example, we once purchased tickets for Dreamworld and Whitewater World. We then spent most of the day at Dreamworld, heading to Whitewater World to cool off later in the afternoon. It was easy as the parks are walking distance and we had entry to both.
17. Check for student discounts
For all the student backpackers who want to access the cheap Gold Coast theme park passes, here's the trick: Get yourselves an International Student Identity Card.
ISIC is an identification card for students that offers numerous savings when travelling at home and abroad. Costing only $30 in Australia, you are sure to make up for the cost, instantaneously, with the huge discount that comes with it.
From tour companies to train and plane tickets (up to 40% discount), you can explore the best of Australia and the 130+ countries without spending beyond your limit.
A free ISIC app is accessible directly from your phone. Just do your travel research first and you're ready to go.
18. And senior discounts
When you're travelling with your mother, father or grandparents to the Gold Coast, you can get cheap Gold Coast theme park passes with a senior citizen discount.
Seniors in Australia are basically pensioners. They get to enjoy around 5% to 50% discount from airlines and attraction fees. From tourists though, seniors may not qualify for some discounted tours, attractions and event entry passes that Australian folks get. Still, it is worth asking.
Just a tip of advice: The best ID to bring when applying for the senior discounts are the ones that show the date of birth with an official mark as a "senior citizen" such as an AARP.
19. Timeshare presentations
Timeshare presentations are sales pitches or marketing events hosted by timeshare companies to promote their vacation ownership properties.
In exchange for your time and attention during these presentations, you may receive various incentives, which can include discounted or complimentary theme park tickets.
Check online or at your accommodation for timeshare presentations happening during your stay on the Gold Coast.
20. Visa or Mastercard discounts
Great news for Visa and Mastercard holders: You get access to heaps of additional benefits at over 3,000 hotels and resorts around the globe.
One of the best ways to access cheap Gold Coast theme park passes is to bring that little plastic card in your hand. Visa and Mastercard holders get to save on flight bookings, hotel bookings and car rentals. A great perk to be had if you're constantly travelling like I am.
As a Visa cardholder, you get offered premium features such as Global entry statement credits and exclusive discounts that really come in handy when touring different attractions.
What's even better is that you don't only get to travel economically, you also feel safe with automatic travel insurance.
I hope you find some cheap Gold Coast theme park passes
That's a wrap!
Travelling to the Gold Coast and experiencing all the thrill-seeking adventures it has to offer doesn't have to be expensive. There are awesome ways to get your mitts on cheap Gold Coast theme park passes.
I say, plan your travel itinerary beforehand and take time to do your research. By doing so, you're not only keeping your budget within the limit and getting your money's worth, but you also save a wad of dollar bills.
You too can enjoy all the fun of the Gold Coast theme parks without the huge costs that we often associate with them.