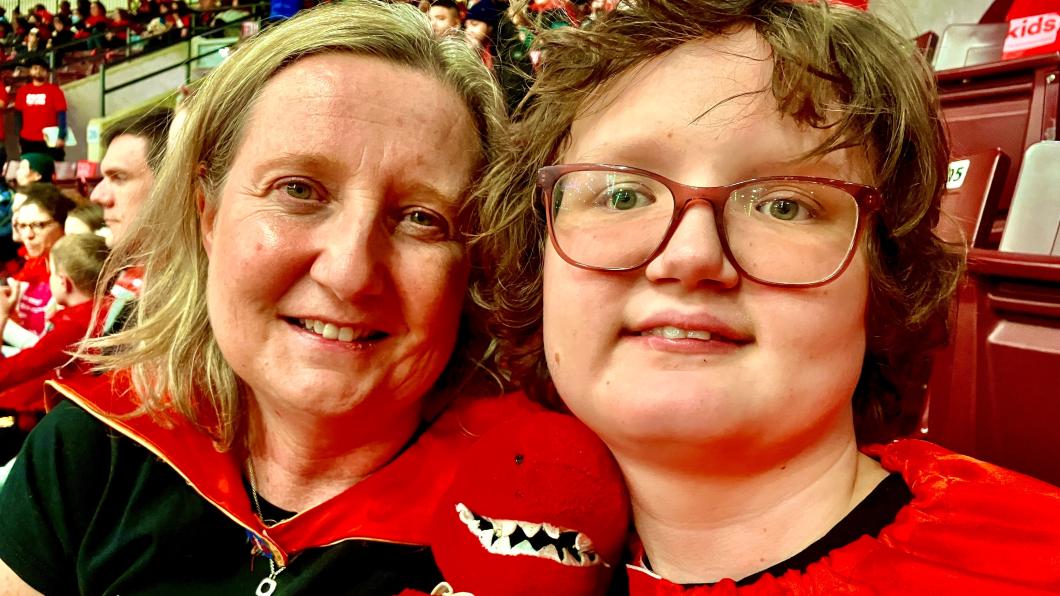 Jean Hammond with daughter Ellie at a Raptors game during Holland Bloorview's Capes for Kids.
By Louise Kinross
"Falling off the cliff." For decades, that's what families said happened when a child with a disability aged out of a comprehensive team of pediatric specialists who understood disability into a fragmented adult health system unfamiliar with it.
Holland Bloorview hopes to change that.
It's released a new how-to guide on designing transition supports for service providers and health systems based on learnings from the hospital's five-year strategy to reimagine its own practices.
"I could see how amazing some of the new resources and supports that we invented are, and I wanted to spread and share them as widely as possible to help as many families as possible," says Jean Hammond, a parent and family-partnerships specialist at Holland Bloorview who co-chaired its transition steering committee. "I hope our story and examples inspire other organizations. It's not a smooth path, but if you bring the right people into the room and do the right type of engagement and collaboration and solution-focused thinking, you can make headway and tackle these big, longstanding problems."
Designing Solutions for Transitions is based on four tenets that "give us four different ways to consider the perspectives and players involved in aspects of a transition," says Laura Bowman, a research associate on Holland Bloorview's transitions strategy who helped develop the guide.
The first is called frameworks. "This looks at what is the evidence, what do we know works according to research and clinical practice, with the caveat that that doesn't mean it will work for the person in front of you," Laura says. "That information is empowering to clinicians and important to provide safe and effective practice."
The second tenet is solution-focused coaching and the third is human-centred design. "These are two methods or tool kits on how to communicate so that we can keep a focus on what the positive, desired outcome will be for the person in front of you, and not get stuck in the symptoms or problems," Laura says.
The fourth tenet is collaboration. "This includes a full section on collaboration with clients and families—what it can look like and how it can be optimized," Laura says, as well as how to work with community partners to streamline efforts.
"The transitions guide walks you through understanding and learning different skills and then gives you the examples, resources and tools you need to start trying them. It's not meant to be read cover to cover, but you can dip in and dip out and use what works for your context."
The guide illustrates the design tenets with four examples of transition supports developed in recent years at Holland Bloorview. These include getting started early webinars on topics like "What do I want to be when I grow up?; services to promote early and diverse volunteer and work experiences for youth; an online transition plan you can personalize; and transition pop-ups.
Jean and her daughter Ellie, 18, have brainstormed and tested a number of the new resources, including transition pop-ups. These are events on topics like day programs, employment and funding sources that are co-hosted by Holland Bloorview and an adult agency, with participation from young adults and families who are further along the path and can offer firsthand experience with a hindsight perspective.
"This pop-up opportunity didn't exist until the transition team brainstormed it, prototyped it and tested it, and we now offer over 100 a year," Jean says. "Ellie and I were involved in one of the early human-centred design jams, which was like no other meeting I had ever attended. I was a bit skeptical when we were encouraged to use clay and pipe cleaners and costumes and sing songs. Fast forward, and I'm a total convert. I believe that this creative approach is needed to find the right solutions to complex, longstanding challenges."
Ellie and Jean attended the first pilot of a pop-up which took place at the March of Dimes Life Program, which is a day program. "One of the big points of a pop-up is that it's a warm handover between Holland Bloorview and something your child might access as an adult," Jean says. "Ellie and I were invited to attend with about five families. There was discussion and activities about big-picture thinking of what the future might look like.
"They had a bunch of magazines and print outs and asked the families and youth to think about what they love, what they get excited about, and what makes them feel happy, and we created a collage together. Ellie's had a lot of cute animals—she loves cats and dogs and bunnies—and she really enjoys arts and crafts, so she cut out a lot of those pieces. She also included pictures of families and friends hugging. Everyone presented their collages, and then Ellie was able to participate in the actual Life Program with youth who go regularly.
"This pop-up got me to go somewhere new in the community and connecting with a group I'd never connected with before, and it was out of the box for Ellie too. There were new faces and new people. The level of thoughtfulness in the other parents' questions showed this was such a practical way to get families thinking, planning, trying, and building up their skills in researching services, which they're going to need throughout their child's adulthood."
Jean says attending a pop-up "is a great way for families to start the process. There's a Welcome to Transitions event that might be the best place to start. Then you can add on other pop-ups when you're ready to tackle another area. It's self-directed, so you can pace yourself. The important thing is just to start."
Holland Bloorview's transitions strategy team worked with the hospital's knowledge mobilization team—called evidence-to-care—to create the guide. In addition to designing it, they played a pivotal role by helping to "identify and name the tenets, to categorize the different practices we do as part of those tenets, and to clarify what it was we actually wanted people to know," Laura says. "Because we've had 15 to 20 years of transition programming here, it was challenging to narrow down what we wanted to share."
The guide was reviewed by about 30 internal and external collaborators "and the feedback was largely positive," Laura says. "Most people said they hadn't seen something like this before. They think it will be very useful because they see how it can fit into existing services, so they don't need to tear down services, but adapt what they already have. We failed a number of times in trying to build the programs at Holland Bloorview, but we recovered and learned from those experiences, and that is perhaps our greatest lesson."
You can download Designing Solutions for Transitions. Like this story? Sign up for our monthly BLOOM e-letter. You'll get family stories and expert advice on raising children with disabilities; interviews with activists, clinicians and researchers; and disability news.