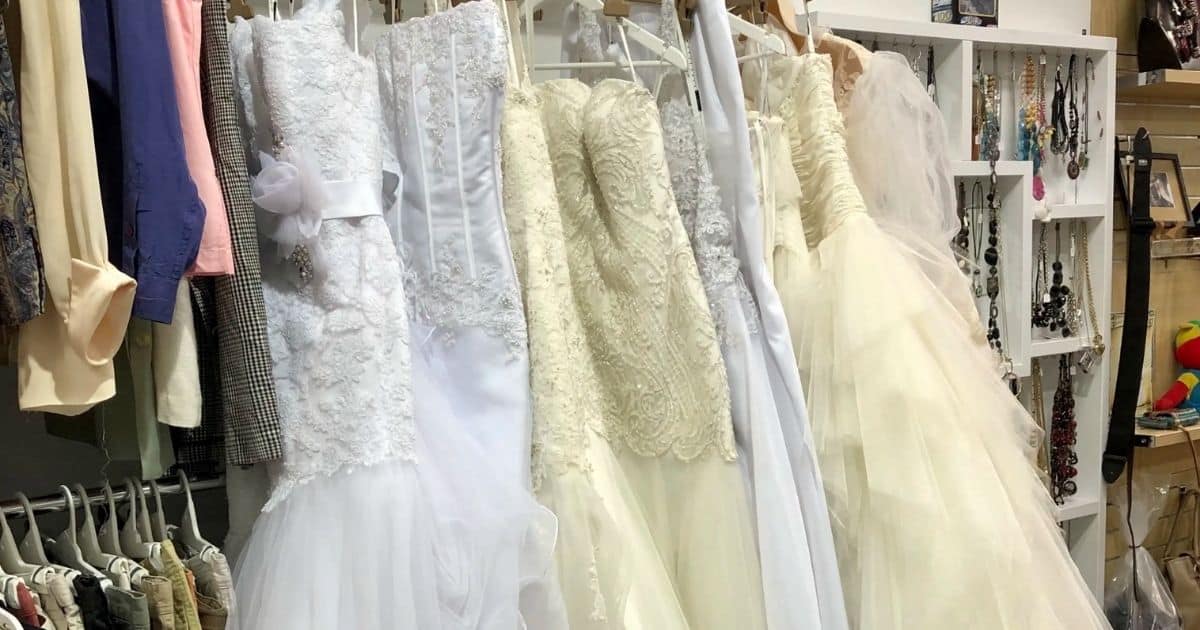 Are you wondering where you can donate your wedding dress in Australia?
Maybe you are divorced and your dress no longer has meaning … or, it has meaning but not particularly good ones.
Even if you are partnered, a wedding dress isn't much use after the big day.
I'd always imagined that I would give my wedding dress to one of my daughters. But really? Would they get married in mum's old dress? It was a thing of wonder 25 years ago when I got married but now it's outta date and, from memory, has a nasty wine stain down the front.
In reality, there's not a lot of point in hanging onto a wedding dress.
On the other hand, there are lots of reasons to donate it.
OK, so you're finally ready to ditch the dress?
Here are some suggestions on where to donate your wedding dress in Australia.
Where can I donate my wedding dress in Australia?
A

ngel Gowns

If you are considering where to donate your wedding dress, the best place in my opinion is Angel Gowns.

Angel Gowns is a charity that does two wonderful things:

It's a shame that dress collections are closed at the time of writing. My understanding is that they already have too many dresses but if you have a wedding dress to donate, keep an eye on the website as hopefully they will open for donations soon.

Btw, there are other ways to help this incredible charity, head to the website and apply to be a volunteer.

Further reading: How volunteering can seriously help your mental health.
Give it to a charity shop
We all have a local charity shop that will be delighted to accept your wedding dress as a donation.
I volunteer at Lifeline and we get some beautiful wedding dresses to resell.
If you donate your dress to an op-shop it might be worn for another wedding, a party, or get ripped apart to re-use the beautiful material. It's heartening to see these dresses get another lease on life … whatever form that might take.
Us volunteers always get excited when a customer tries on a second-hand wedding dress!
Stick it on Facebook
If you want to get a wide reach and gift your dress in such a way that feels right for you, why not list it on Facebook Marketplace?
Make sure you list it as "FREE" and add a little spiel about who you would like to gift the dress to, for example:
"If you are getting married and can't afford a dress I would love to gift it to you."
OR
"I would love my dress to go to good use, please tell me how you plan to re-use it."
Selling this way allows you to connect with the person you donate it to. You can personally hand over the dress and you know what will happen to it. This can be a meaningful and cathartic way to part with your dress.
Where can I donate my free wedding dress in Australia?
Local hospitals or NICUs
Donating your wedding dress to local hospitals or Neonatal Intensive Care Units (NICUs) can bring solace to grieving families or comfort premature babies.
The dresses are often transformed into delicate gowns for stillborn infants or those who pass away shortly after birth. The gesture offers a small source of comfort during an immensely challenging time.
Reach out to your local hospital or NICU to inquire if they accept such donations. It's a touching way to provide support and create a meaningful impact for families in need within your community.
Dare Formal Wear
On my hunt for where to donate wedding dresses in Australia, I came across this fab shop, Dare Formal Wear in Strathpine, QLD.
Dare Formal Wear is a not-for-profit organisation which supports victims of domestic violence through the proceeds of their shop which resells donated wedding and formal wear.
If you are happy to pay for postage, send your dress to them. Or, if you live near the shop or are passing by at any time, drop in your wedding dress and know you have done something to help protect women and children from domestic violence across Australia.
My Wedding Wish
My Wedding Wish is a charity that plans and gifts weddings to the terminally ill. They, like Angel Gowns, have temporarily stopped wedding dress donations because they have too many. Again, stay posted with My Wedding Wish as if they re-open wedding dress donations, you want to be first in line.
Final words: Where can I donate my wedding dress in Australia?
In the journey of a wedding dress, its significance doesn't have to fade after the big day.
Donating your wedding dress in Australia opens the door to myriad possibilities, each contributing to a greater cause. From Angel Gowns Australia repurposing dresses into delicate garments for angel babies, to simply dropping your dress into your local op shop, the impact is profound.
By choosing to donate your wedding dress, you extend the joy of your celebration to others, offering hope, dignity, and support where it's needed most. Your dress becomes a symbol of love that transcends its initial purpose, embodying the spirit of giving and compassion that binds communities together.